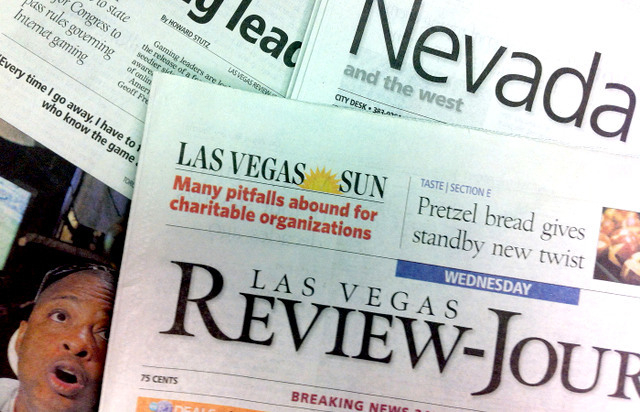 Stephens Media LLC, owner of the Las Vegas Review-Journal, moved in U.S. District Court on Tuesday to dismiss four of seven defendants named in a lawsuit by Las Vegas Sun publisher Brian Greenspun.
However, the case Greenspun brought to halt a proposed termination of the joint operating agreement under which the Review-Journal prints and distributes the Sun would continue without material change.
"Though all of the defendants believe (Greenspun's) lawsuit is baseless, the deficiencies plaguing the complaint are particularly evident with (four of them)," wrote Stephens Media attorney J. Colby Williams.
Included in the dismissal request were Stephens Media CEO Mike Ferguson, Warren Stephens, president of Stephens Holding Co. and SF Holding Corp., and the two companies. Three other Stephens companies would continue in the case.
Greenspun brought the action under state and federal antitrust law, arguing that ending the agreement would effectively put the Sun out of business, creating a monopoly for the Review-Journal.
The current agreement calls for the Review-Journal to make profit-sharing payments to Sun owner Greenspun Media Group plus absorb printing and distribution costs. The profit payment was $1.3 million last year. Stephens estimates production costs at more than $1 million.
In return, Stephens would give up the royalty payments it receives from Greenspun Media to use the lasvegas.com domain name. This income can run as high as $2.5 million a year.
Brian Greenspun did not specify in court papers how the individuals named in the dismissal motion did anything to violate antitrust law, Williams wrote.