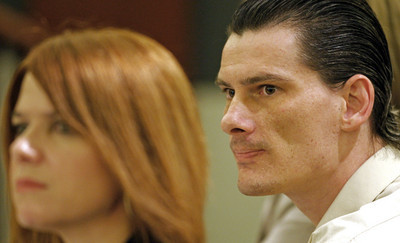 An attorney representing Chester Stiles in his sexual assault trial asked that a juror be removed after a woman thought to be the juror's daughter posted negative comments about the trial on a Florida-based Web site.
District Judge Jennifer Togliatti didn't remove the 60-year-old juror but questioned him Thursday about whether he had discussed the trial. The judge earlier ordered jurors not to talk about the case with anyone, including spouses or relatives.
"Any chance you discussed this case with your wife or daughter?" Togliatti asked.
The juror replied he hadn't.
The issue surfaced after the court learned that a woman thought to be the juror's daughter posted a comment about the trial on the Web site of a Jacksonville, Fla., TV news station. Stiles is accused of sexually assaulting a 2-year-old girl.
On the Web posting, the woman said that her mother told her that her father was seated in Stiles' trial.
The woman said that the jurors are "being victimized by this sick individual" and that she is upset that her father will be required to view a key piece of evidence: a video that prosecutors allege shows Stiles sexually assaulting the girl.
"My father will never be able to 'unsee' this 15-minute video that he feels bound by service to this victim, our country and our legal system to view" the woman wrote.
During a hearing Thursday, the juror told Togliatti that he has a daughter living in Florida whose name is similar to that of the woman who posted the comment.
But he said he never discussed the case with his wife or anyone else. He said he also followed the judge's order not to read or watch any news reports about the trial, which began Monday.
Deputy Public Defender Amy Coffee asked the judge to remove the juror "out of an abundance of caution."
But county prosecutor Mary Kay Holthus said there are ways for a juror's spouse to discover which trial he or she is seated in.
They could include deducing as much from high-profile trials that are in the news or by following the juror in the morning and seeing which trial a spouse is sitting in.
Togliatti said she was satisfied that the juror told the truth and kept him on the panel.
There are 12 jurors hearing the case with two alternates. Nine are men, five are women.
Stiles, 38, is facing more than 20 counts of sexual assault and lewdness with a minor. If convicted, he could spend the rest of his life in prison.
On Thursday, Tina Allen testified she had dated Stiles for several years. Allen said that when they began dating, she and Stiles would go hiking or do other "family things."
They remained friends after they broke up, she said, and she characterized their relationship as "friends with benefits" after breaking up, meaning they had sex but were not actively dating.
Allen, 46, is thought to be the link between Stiles and the 2-year-old girl in the video as well as a 6-year-old girl authorities allege was molested by Stiles.
Allen was friends with the families of both victims and introduced Stiles into their lives, authorities allege.
During Thursday's testimony, Allen characterized the 6-year-old girl, who authorities allege was molested in 2003, as overly affectionate.
Other family friends said the girl, now 11, was shy. The girl, who testified earlier, said Stiles groped her and kissed her when he visited the family's home in 2003 in Las Vegas. She said she felt sick to her stomach after he kissed her.
But Allen said that during a visit, the girl jumped into Stiles lap and showered him with kisses on his face and lips.
Allen said that both she and Stiles told the girl not to kiss him.
"It was not something we'd expect a 6-year-old to do," Allen said.
Contact reporter David Kihara at dkihara@reviewjournal.com or 702-380-1039.