Storm aftermath impedes travel in Death Valley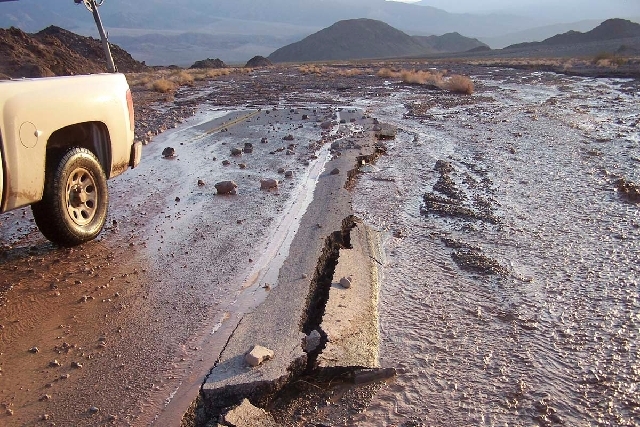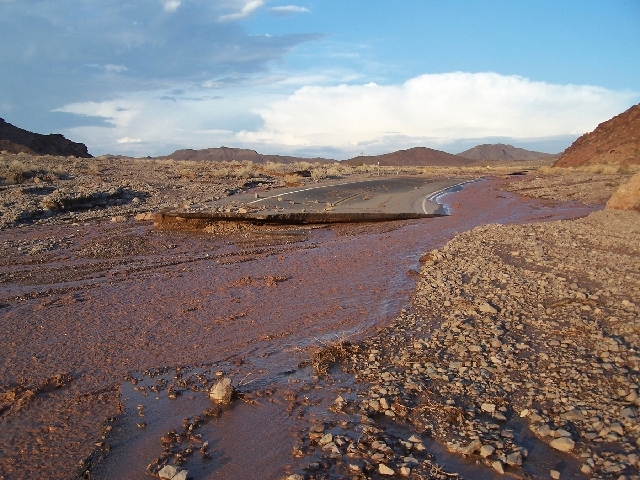 The only paved route through the southern end of Death Valley National Park remains closed and could stay that way for months.
Flash flooding from a July 28 storm caused major damage to Badwater Road between Badwater Basin and California state Route 127. A 1,000-foot section of the pavement was washed away completely, and mud and debris covered another 20 miles of road.
Several dirt roads also were damaged and remain closed. They include Big Pine/Death Valley Road, Emigrant Canyon Road, Harry Wade Road, Mustard Canyon Road, Panamint Valley Road, West Side Road and Wildrose Road.
The more remote, backcountry roads are likely to be fixed and reopened last, said Cheryl Chipman, spokeswoman for the park, 100 miles west of Las Vegas. "We'll try to get some of the more popular ones open first."
Visitors can still use the north end of Badwater Road from Furnace Creek to reach Badwater Basin, which at 282 feet below sea level is the lowest spot in the North America and one of the park's most popular attractions.
The hot, dry heart of Death Valley averages less than 2 inches of rain a year. Of that, less than one-tenth of an inch usually falls in July, but this year was different. The park recorded three-quarters of an inch of rain last month, tying the record set in 1954.
Long road closures because of flash flooding are not uncommon in a place so unaccustomed to sudden downpours.
In August 2004, a storm triggered a flood east of Furnace Creek that killed two people and destroyed California state Route 190, the fastest route between Death Valley and Las Vegas. It took eight months and $10 million to reopen the road.
The National Park Service includes updates on road conditions in its daily Morning Report at www.nps.gov/deva and on a special road conditions Facebook page at www.facebook.com/DeathValleyRoadConditions. You can check on the roads by calling the park directly at 760-786-3200.
Contact reporter Henry Brean at hbrean@reviewjournal.com or 702-383-0350.
Related story:
Like moths to flame, visitors drawn to Death Valley heat