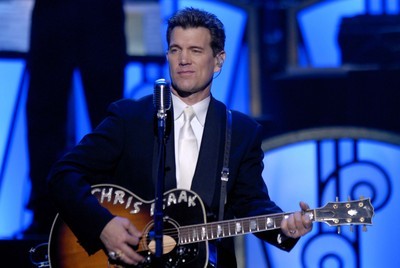 Even in death, or especially in death, Heath Ledger wins awards, nabbing the British Oscar (the Bafta) on Sunday night. But another great actor died last year and fades from memory. Brad Renfro played Josh in "Ghost World," Marty in "Bully," Todd in "Apt Pupil" and young Mark in "The Client."
Renfro killed himself with heroin at 25 on Jan. 15, 2008. Renfro's final movie, "The Informers," comes out this year. It's based on short stories by Bret Easton Ellis ("Less Than Zero," "American Psycho"), co-starring other famous messes Mickey Rourke and Winona Ryder, plus Billy Bob Thornton and Kim Basinger.
Also in the movie is Chris Isaak (singing Friday through Sunday at The Orleans). Isaak, who doesn't even drink, filmed with Renfro in Uruguay and played music with him on top of a beach hotel. Isaak was so concerned, he pulled Renfro aside. "And I never do this," Isaak says.
"I said, 'I know we just met and stuff, but I want to tell you what people say about you when you're out of the room.' "
Renfro's eyes widened. He said, yes, he'd like to know. Isaak told Renfro that cast and crew members thought he was "such a good actor" and nice to hang with. But Isaak told him that people also said that "it's a shame he's gonna be dead so quick because he's gonna kill himself."
"I said, 'I've never seen anyone in so much pain before — medicating' " through the pain. "You're gonna be dead," Isaak warned Renfro, who listened intently.
Renfro died two weeks later.
In at least one scene, Renfro "had already aged so much from drinking and partying" Isaak says. "You could see there was a very smart, sensitive and a bright guy in there. And there was this troubled guy who had substance abuse problems.
"It was sad. Real sad."
NOT 'LITTLE DICK'
Richard Marx became famous for making the hits "Hold on to the Nights" and "Right Here Waiting." But in a way, he's not the most successful person from his family. His late dad made ad jingles from the 1960s through the 1980s.
He was a jazz pianist genius behind "Two Scoops of Raisins" for Kellogg's; "You've Come a Long Way, Baby" for Virginia Slims; and "Double Your Pleasure, Double your Fun" for Wrigley gum, among other huge ad campaigns. He arranged horns for Joe Cocker and charted music for his son.
Marx — who sings Saturday at Aliante — sang in some of his dad's ads, for Peter Pan peanut butter, Kellogg's and dog food.
His dad, though, was also named Richard Marx, and went by Dick. This posed a problem for Marx Jr. (whom friends often call Ricardo).
"Even at a young age, people would assume that I was going by Dick. And then I was always Little Dick, which was always a drag," Marx tells me. "That's something you don't want to be referred to as."
So Marx loved his father and thinks he was the most complete musician he's ever known. But please don't refer to them as Big Dick and Little Dick.
HAMMERED WITH THE STARS
Green Valley Ranch's faux-metal showroom band Steel Panther is shooting a music video in L.A. on Thursday, and chances are 90 percent Sarah Silverman will be in it, says lead singer Michael Starr (born Ralph Saenz). (He did the interview with me in character as Starr.) They're also pitching for a TV show.
In Vegas, Sully Erna of Godsmack and a few other celebs have sung onstage with Steel Panther, but in L.A., they've had guest performances by Drew Carey, Jeremy Piven, Kelly Clarkson, Tony Romo, Michael Strahan, Jerry Cantrell, Billy Ray Cyrus, Paul Stanley, Kip Winger, Tom Morello, the RZA, Lil Jon, David Cook with Joey Fatone, Pink and Juliette Lewis.
"We had Avril Lavigne and her husband (Sum 41 frontman Deryck Whibley) come up and play with us. Avril actually redeemed herself. A couple of months ago, she came up onstage, and she was horrible — she was just hammered, man.
"Everyone's hammered who gets up here. That's the way it is, man. When you see the Panther, you gotta get drunk. It's a heavy metal show!"
FREE BEER
I'm the quizmaster, again, hosting the free pub quiz about 8 p.m. Thursday at PT's, on Sunset Road east of Paradise Road. Winners of most rounds get free pitchers of beer. First-, second- and third-place teams get $100, $50 and $25 bar tabs. See you there.
What do you think about all this? Write your thoughts on my blog (reviewjournal.com/elfman) or e-mail me (delfman@reviewjournal.com), and I'll post them. My column runs Sundays, Mondays, Tuesdays and Fridays. See you then.