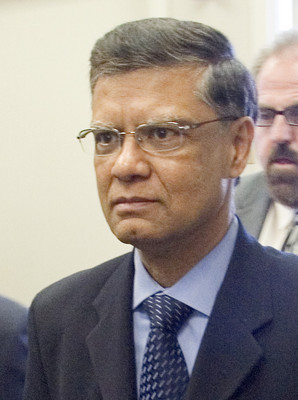 A recent stroke suffered by Dr. Dipak Desai, 58, has forced the Nevada State Board of Medical Examiners to postpone a September disciplinary hearing for the physician, whose clinics are linked to a hepatitis outbreak in Las Vegas.
Medical records shared with a board physician by Desai's attorneys, according to Tony Clark, the board's executive director, "indicate an inability to participate in a defense for himself at this time."
Clark said the board physician, Dr. Jerry Calvanese, who was not made available to the media, told him that "there are some items, like a watch, that he (Desai) can't name."
The stroke occurred within the past two weeks in California, Clark said.
"He was in intensive care for less than a week at UCLA Medical Center, and then his family brought him home," Clark said.
A stroke occurs when a blood vessel bringing oxygen and blood to the brain ruptures or gets blocked so brain cells don't get the flow of blood they need.
How a stroke patient is affected depends on where the stroke occurs in the brain and how severely the brain is damaged, according to Dr. Dale Carrison, head of emergency medicine at University Medical Center.
Carrison said that when brain cells die during a stroke, abilities controlled by that area of the brain are lost.
Those abilities can include speech, movement and memory.
Because he hasn't worked with the patient or seen the MRI brain imaging exam that Calvanese studied, Carrison said it's impossible to know whether the symptoms described by the board physician are evidence of a speech or memory problem.
Rehabilitation often makes it possible for someone who has had a stroke to overcome the difficulties now associated with Desai, Carrison said.
But he said it also is possible that a stroke victim "might not ever get over it."
Without seeing the patient, he said, it's impossible to know how long rehabilitation might take.
Clark said a status check will be held on Desai's case in late September.
"At that time, the board may ask him to submit to an exam by one of our physicians so we can determine the extent of his problem" Clark said.
This was Desai's second stroke. Associates of Desai say that his first, suffered last year on a trip to India, was minor and left him with no residual effects.
However, that first stroke delayed another legal action against Desai's clinic and one of the physicians on his staff, Dr. Clifford Carrol.
Patient Keven Rexford had filed a malpractice lawsuit, alleging that a frenetic pace of procedures at Desai's Endoscopy Center of Southern Nevada led Carrol to miss a tumor growing in his colon during a colonoscopy in January 2005.
Health officials sent out warnings to tens of thousands of patients after they announced in February that unsafe injection practices had been linked to an initial cluster of six hepatitis C cases at the Endoscopy Center's 700 Shadow Lane facility.
Legal documents in Rexford's case show that a November 2007 deposition was canceled after a stroke Desai suffered the previous month.
Desai's attorney, Cheryl Horner, informed Rexford's attorney, Daniel Carvalho, in January that Desai could testify for only 60 minutes because of what the stress would do to him.
In a motion to compel Desai to testify in February, Carvalho noted that the clinic's chief operating officer, Tonya Rushing, testified in her January deposition that Desai had been performing endoscopic surgical procedures at his clinic since his stroke.
"It is difficult to comprehend that he (Desai) can perform multiple endoscopic surgical procedures upon patients under anesthesia with the risk of death, perforation and other complications, but cannot answer questions for longer than a self-imposed 60 minute time limit," Carvalho wrote in his motion.
Under oath during his February deposition, Desai also noted that he had been performing surgical procedures since his stroke.
Rexford's case was settled in April. Terms were not disclosed.
"It was a strange case," Carvalho said.
Contact reporter Paul Harasim at pharasim@reviewjournal.com or 702-387-2908.