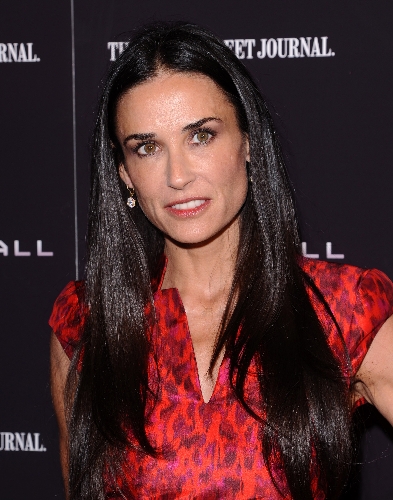 Reports of Demi Moore's hard partying have been surfacing since she was hospitalized in Los Angeles earlier this week for "exhaustion."
Us Weekly reported she was table dancing at Hollywood hot spot Beacher's Madhouse on Jan. 11.
"She was trashed," a source told the magazine.
The celebrity website TMZ.com reported on Wednesday that sources said Moore had a seizure after doing whip-its, a street name for a small nitrous oxide inhalant.
Moore, who turns 50 in November, married Bruce Willis at The White Wedding Chapel in Las Vegas on Nov. 21, 1987. They divorced in 2000. In 1993, she starred in "Indecent Proposal," which was shot on location in Las Vegas with Robert Redford and Woody Harrelson.
Moore and Ashton Kutcher recently split after a six-year marriage that ended badly with his alleged infidelities that generated tabloid headlines.
LIEBERMAN HONORED
Adam Lieberman, lead concierge at The Cosmopolitan, leaves for London today as the U.S. nominee for an award at the international congress for concierges.
He is one of 10 finalists for the Andy Pongco Award, which recognizes an under-35 member of Les Clefs d'Or who has been active in encouraging young members to become participants in the organization.
Les Clefs d'Or, French for "keys of gold," is the only national organization for hotel lobby concierges. The winner will be announced Jan. 31.
Las Vegas will be hosting this Pan American Les Clefs d'Or Congress at the end of April, with approximately 600 attending. Signature at MGM Grand will be the host hotel. Lieberman is the son of Frank Lieberman, the longtime Las Vegas entertainment publicist who died a year ago.
THE SCENE AND HEARD
Dinah Shore Weekend, the largest lesbian dance and music festival in the world, is moving to Las Vegas after a 22-year run in Palm Springs. Working with Bar Girl and Fuse Events, Caesars Entertainment landed the festival and will host it at their properties. The Flamingo's Go Pool will be reserved exclusively for some of the events. …
The grand opening of the newest gay nightclub in Las Vegas will benefit two local charities, NOH8 and Golden Rainbow. The March 3 event at Share nightclub, which opened in November at 3646 Wynn Road, will feature a 30-minute sneak peek of Golden Rainbow's performance lineup for the Ribbons of Life event set for June 24 at the Smith Center. Also performing will be British star Luciana. …
Starting Sunday, local entertainers are teaming up for brunch at The Brentwood Cafe to benefit New Vista Ranch, a nonprofit group that helps developmentally disabled adults. The new event series will take place every Sunday from 11 a.m. to 2 p.m. at the cafe, 7325 Warm Springs Road. Reservations are recommended: 702-656-3000. …
Actress Shirley Jones, the 1961 Oscar winner for best supporting actress in "Elmer Gantry," will be the honoree at Oscar Night Las Vegas at the Palms. Jones, who starred in "The Partridge Family," and her husband, Marty Ingels, an actor, comedian and theatrical agent, also will be guests of honor at a Feb. 25 reception hosted by Variety, The Children's Charity of Southern Nevada. More information and online tickets are available at www.ONALV.org.
THE PUNCH LINE
"Due to a mix-up, teleprompter was loaded with Jimmy Carter's in 1979." — From David Letterman's "Top Ten Surprises in (the) State of the Union Address"
Norm Clarke can be reached at 702-383-0244 or norm@reviewjournal.com. Find additional sightings and more online at www.normclarke.com. Follow Norm on Twitter @Norm_Clarke.