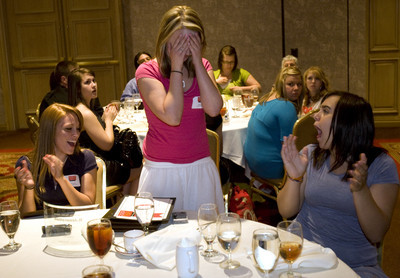 Green Valley High School's student newspaper, led by a first-time adviser, continued its winning ways Friday when it received top honors for the sixth straight year at the 33rd annual Las Vegas Review-Journal High School Journalism Awards.
Ashley Busch, who graduated from Green Valley in 2002 after serving as editor of the InvestiGator, said she knew she "was stepping into really big shoes" when she replaced adviser Ben Barnholdt. The InvestiGator was named best in its category each of the previous five years under Barnholdt's leadership.
"We just worked really hard to build the staff and maintain the reputation that our paper's always had," Busch said.
Busch fought back tears as she discussed her impending return to California, where she taught school for two years before taking the Green Valley job.
"I've just been blown away, especially by these two ladies," she said, gesturing to co-editors Olivia Scott and Jennifer Watson, both seniors.
Scott was named the paper's Most Valuable Staffer during the awards luncheon at the Suncoast. She also won several other awards, including a first-place award for best news feature story.
She said staff members knew they faced a large amount of competition. "We didn't have a huge ego coming in here," she said.
Watson also received several honors, including first-place awards for feature writing and copy editing.
Scott said she plans to attend Chapman University in Orange County, Calif., where she will write for the campus newspaper and study screenwriting. Watson said she intends to study genetics and tissue engineering at Boston University.
The Crusader Chronicle of Faith Lutheran High School, under editor Olivia Makinson, won best newspaper in reduced format.
Superintendent Walt Rulffes spoke to the crowd of nearly 500 people and quoted from the First Amendment, calling it "a very powerful part of our government."
He told future journalists in the audience that they will need strong ethics, in addition to good technical skills.
MacKenzie Warner of the Las Vegas Academy won the First Amendment award, which was given for the second time last year.
Two students who work for R-Jeneration, a weekly feature in the Review-Journal written by students, were honored with $2,000 college scholarships for their work. They are Caitlyn Belcher of Foothill High School and John Callahan of Arbor View High School.
All the awards were judged by Review-Journal staffers.
Contact reporter Carri Geer Thevenot at cgeer@reviewjournal.com or 702-380-8135.