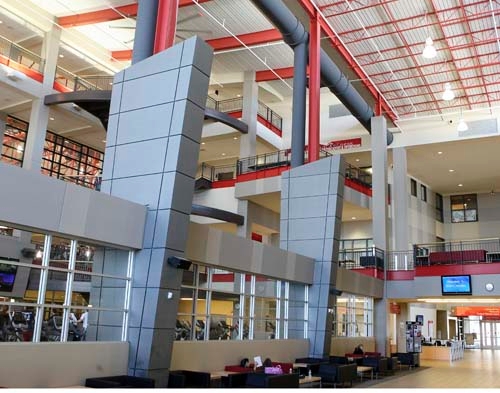 Because of a design error, the new student recreation and wellness building at UNLV needs a major retrofit to meet the code for withstanding earthquakes, according to the university's legal team and two independent engineers.
The University of Nevada, Las Vegas has already gone at least 10 percent over the "guaranteed maximum price" listed in the contract to build the center, which opened in 2007. But the spending is far from over. And it's not clear where the retrofit money will come from.
Richard Linstrom , UNLV's general counsel, said, "We feel like we were the victim of severe professional malpractice" by the design team — DMJM Design, which is in Arizona, and a Las Vegas engineering firm, Bennett & Jimenez, which closed its doors in December. The university intends to sue for damages, Linstrom said.
The recreation building's general contractor, Kitchell Contractors of Arizona, did not detect the seismic error, though it was paid an extra $150,000 up front, to serve as a so-called "construction manager at risk." That means it entered the project before construction started, in order to trouble-shoot questions about what state construction law calls a project's "constructability," as well as its scheduling.
A mandatory pre-construction check of plans by the Nevada State Public Works Board did not uncover the seismic design error either, according to Linstrom.
Big flaw, small signage
The four-story facility houses a running track, two swimming pools, courts for basketball and racquetball, work-out machines, health service, spa, cafe and meeting rooms. Students, not Nevada taxpayers, footed the bill to construct the rec building, through an academic-credit fee.
Today, a small notice posted at its main entrance warns users that the building falls below seismic requirements, "but engineering consultants don't see a safety issue" if the building is occupied until repairs are made.
"UNLV is providing this notification in the interest of full disclosure and transparency," the notice also says.
Sophomore Chris Butler, who was eating a snack from the cafe, didn't know about the hazard. But after the disclaimer was pointed out to him and he read it, he said he trusted the consultants.
"Earthquakes here (in Las Vegas) are so small anyways," said the criminal-justice major.
Apart from the building's seismic deficiency, it also suffers from a leaking roof, thousands of cracked floor tiles and racquetball courts with buckling floors, according to a UNLV legal document.
Those lesser flaws will be fixed, according to Linstrom, when the whole structure is brought up to seismic code. He said the university has set aside $500,000 for the lesser repairs. Also, it has already handled repairs of several pressing flaws in one portion of the building, involving bent trusses and missed welding.
For the seismic repair, UNLV is currently evaluating proposals submitted by 11 parties, to assess strategies and potential costs, Linstrom said. He added that UNLV intends to force the designers to cover the cost of the retrofit plus the $2.75 million it recently agreed to pay Kitchell for change orders that came up during construction.
Guaranteed price didn't stick
The construction contract with Kitchell had set a guaranteed maximum price of $43.9 million. In theory, a construction manager at risk gets to keep any remaining money if a project comes in below budget, but the manager at risk should cover the costs if a project exceeds budget.
Yet, UNLV agreed last month to pay the company another $2.75 million, for change orders that arose during construction because of structural design problems unrelated to the recently documented seismic design flaw. The new payment comes on top of $1 million extra that UNLV already paid Kitchell in 2006, also for change orders.
The parties signed the settlement Feb. 8, just before arbitrators were to start deliberating. Kitchell had sued the university and its regents in spring 2009, seeking funds to cover the cost of re-manufacturing new steel after structural design errors had to be corrected during construction. Kitchell took the position it is not responsible for change orders caused by design error.
State law governing the UNLV-Kitchell construction contract required the university to undergo binding arbitration, instead of going to open court, to solve the dispute. But arbitration does not occur in public.
In February, the Review-Journal was requesting permission to attend the private arbitration sessions, when it learned the parties had settled.
In 2009 the Legislature changed state law on construction contracts. Now, public entities must try non-binding mediation first; but if it doesn't work, they can take the dispute to court.
UNLV's lawyer said the $2.75 million settlement was reasonable, as Kitchell had initially demanded $9 million in compensation. In the settlement, Kitchell agrees to help UNLV's recovery effort against the designers, by making documents and witnesses available.
Regents did not vote on the settlement because discussing a proposed deal in a public forum would have given Kitchell, then UNLV's adversary, an unfair advantage.
According to Linstrom, UNLV President Neal Smatresk signed the settlement after obtaining approval from Dan Klaich, who is Nevada's chancellor for higher education. Linstrom also said that as the dispute unfolded, he periodically briefed Regent Michael Wixom, who heads a regents' committee on real estate.
The Arizona office of DMJM Design declined to comment about the UNLV recreation center. It referred the newspaper to the Los Angeles office of AECOM, a global enterprise that acquired DMJM in January.
Paul Gennaro, an AECOM spokesman, said his company has "on multiple occasions offered our assistance to UNLV in resolving the issues that they have faced on this project. … However, we do not agree with all of UNLV's assertions."
But UNLV spokesman Dave Tonelli parried Gennaro. "We would not have gone out to solicit for a new design team" on the retrofit, Tonelli said, "if DMJM would have moved forward to correct the seismic design error."
J. Francisco Jimenez of Las Vegas, who was president of Bennett & Jimenez, declined to comment on the existence of mistakes in any of its calculations. The economic downturn led to the firm's demise, he said.
Both Lochsa Engineering in Las Vegas and Filip Filippou, a seismic expert at the University of California, Berkeley, have questioned the building's ability to weather a quake, in reports commissioned by UNLV.
cautioning against hysteria
Filippou told the Las Vegas Review-Journal by phone that he is concerned about the mix of rigid and flexible elements in the structure. Rigidity is one strategy for coping with vibration, flexibility is a different, conflicting strategy.
"That natatorium area has very high columns that are relatively flexible," he said. "As the columns flex (in quake), the roof may lose its support." The natatorium also has one large glass wall, which could "deform outwards" if severely shaken, causing overhead trusses to detach from the walls.
But Filippou cautioned against hysteria. "I am much more worried about going on the highway in Las Vegas, than going into that building."
Gus Nunez, manager of the State Public Works Board, defended its examination of the building's plans, which it had outsourced to Schirmer Engineering in Las Vegas for $164,000. Schirmer did detect the separate structural steel problem, whose correction caused some of the cost overrun.
According to Nunez, "What a plans checker does is, make sure the proper code provisions are being applied, … not to check every math calculation or redo the computer modeling. That would be another (multi-million dollar) design fee."
Las Vegas lawyer Alan Lefebvre, who often represents school districts or other public owners in construction disputes, said that public entities are "generally considered to be 'sitting ducks'" in the construction-manager-at-risk method. A manager can subtly use the planning phase to increase a project's costs and its own profit margin, according to Lefebvre, who did not comment on the particular circumstances of the UNLV building in question.
Filippou said that Berkeley — because of its quake-prone locale as well as the growing complexity of seismic codes — now goes beyond mandatory plans examination when it adds buildings to its campus. It also hires a second engineering firm to check design calculations by the original engineering firm.
Contact reporter Joan Whitely at jwhitely@reviewjournal.com or 702-383-0268.