November 16, 2009 - 10:00 pm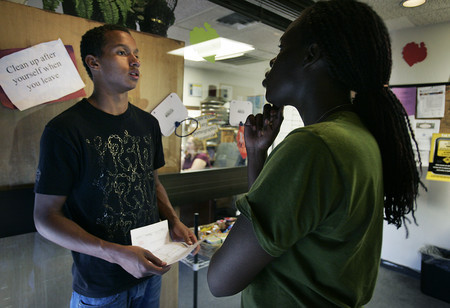 The Clark County School District's enrollment has dipped to 309,000 students from 311,000 students a year ago, but one segment of the student population is still growing, much to the dismay of educators and social workers alike.
The number of homeless students in local public schools could reach about 8,000 by the end of the current school year, about 2,000 more than last year, said Myra Berkovits, the district coordinator for the federally funded Homeless Outreach Program Education, HOPE.
"I think it's a perfect storm between job loss, foreclosure and bad luck," said Berkovits in explaining the increase.
As struggling families swap their large homes for small apartments, teenagers are getting forced out of the nest, said Tim Mullin, director of operations for the Nevada Partnership for Homeless Youth. But being forced to leave home usually strengthens the desire homeless teens have to stay in school. They crave the routine or structure it gives their otherwise chaotic lives, Mullin said.
"They sleep on bleachers in front of the high school, because they want to be at school when the bell rings," he said.
Homeless youth are difficult to track, however, because they're an "invisible population," Mullin said. "They don't want to be identified as homeless."
As of Nov. 12, the district had 3,637 homeless students, including 2,053 elementary students and 1,637 middle and high school students.
The numbers are expected to grow throughout the year as more homeless youth are identified and more families register and seek services.
Federal law broadly defines homeless students as those living in shelters, vehicles, campgrounds, hotels and motels. They also may be living in a multifamily situation because of economic hardship. Children awaiting foster care are also considered homeless.
Because of family hardships, Aaron Kik, 17, has been on his own for more than a year.
"Two people at my school know of my position," he said. "That's a personal choice just because I don't want anybody looking down on me for it or feeling sorry for me."
Kik was a "couch surfer" for about a month and stayed with friends before he got an apartment through the Nevada Partnership for Homeless Youth's residential program.
Kik is up at 4:30 a.m. every day. His Citizens Area Transit bus ride to Western High School, 4601 W. Bonanza Road near Decatur Road, takes an hour and 15 minutes.
A senior, Kik has attended Western since his sophomore year. Kik could have switched to a school that was closer to his new apartment but explained, "I didn't want to completely restart my life."
HOPE pays for the students' CAT bus passes. For elementary students, HOPE also provides bus passes to parents so they can escort their children.
Under federal law, homeless children can remain at their original school if circumstances have forced them to leave that school's attendance zone.
Each public school in Clark County has a homeless student advocate. HOPE also has five project facilitators who are each responsible for overseeing about 75 public schools.
The program is getting $308,000 over two years from the federal stimulus fund to increase services to homeless students. Berkovits said the money is going toward one-on-one tutoring programs, a new middle school counseling program aimed at helping students stay in school, and after-school programs at Western, Rancho and Sunrise Mountain high schools.
Twice a week, those high schools will keep a room open for two hours so homeless students can use the computers or obtain counseling and tutoring.
"It's really a great place for kids who don't have any place to go after school," Berkovits said.
HOPE also provides students with necessities such as backpacks filled with school supplies, underwear and toiletries.
On weekends, about 4,400 needy school children are sent home with 3,000 calories of nonperishable food in their backpacks. It is provided by the Three Square Food Bank, said Julie Murray, Three Square director.
Social workers said they just want to give homeless students a chance at succeeding in life.
Dominique Contrevo, 17, a senior at Henderson's Basic High School, said she's a straight-A student, a performer in school poetry competitions and a member of her high school softball team.
She also gets assistance from the residential program sponsored by the Nevada Partnership for Homeless Youth.
Having grown up in a household that often struggled to make monthly rent, Contrevo is determined to lead an adult life free from the uncertainty of poverty.
"I don't want to live life that way," she said. "The only escape out of it is through school."
Contrevo is thankful she has a place of her own.
"At the end of the night, (I think), 'Hey, there's my bed. The only one who can mess that up is me.'"
Contact reporter James Haug at jhaug@reviewjournal.com or 702-374-7917.
GIFT CARD DRIVE
The Nevada Partnership for Homeless Youth is asking for donations of restaurant gift cards that can be dropped off Nov. 20 as part of the "Plastic Food Drive." The gift cards can be left at the Homeless Youth Drop-In Center, 4800 S. Maryland Parkway, just south of Tropicana Avenue.