Students getting turned away at College of Southern Nevada
September 12, 2010 - 11:00 pm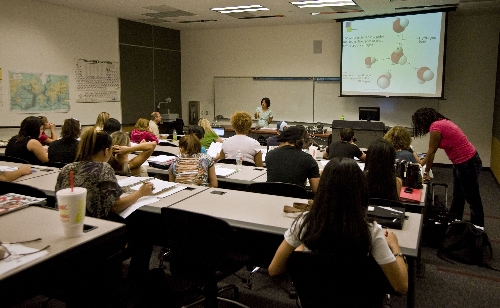 There is a point at which want becomes desperation, where a person will step outside the bounds of normal behavior and do something weird.
Sarah Garcia, a 19-year-old freshman at the College of Southern Nevada, reached that point two weeks ago.
It is hard to blame her, given the circumstances she faced.
"It's kind of cutthroat," Garcia explained.
The community college's enroll­ment has more than doubled in 15 years. It is so hard — almost impossible, really — to get into some classes that administrators say they could double the number of sections offered and still have to turn away students.
And they would do that, they would offer lots more classes, if there was enough money to build classrooms and hire teachers. But there isn't.
Which is Garcia's problem. She is majoring in biological sciences, which means she has to take Biology 189, the basic intro course, before she can move on to more complicated courses. Almost everyone in every major at CSN has to take an introductory science class.
With an enrollment that will be near 45,000 this year, Biology 189 fills up especially quickly.
Sally Johnston, the dean of CSN's math and science school, said the numbers aren't yet in for this semester, which began Aug. 30. But they're liable to be worse than they were last fall.
And last fall was terrible.
Last fall, the school offered 21 sections of Biology 189, enough room for 935 students. Those sections filled up almost immediately, but still more students wanted to take the class.
In the end, Johnston said, CSN turned away more than 1,400 students who tried to sign up for it. With numbers that high, there's nothing anybody can do.
"My heart just aches for these students because they're trying so hard to get into the classes," Johnston said. "If I had 10 students, if I had 50 students, I would find a way to put them into the classes. But I can't do that with 1,400 students."
It's not just Biology 189, either. It's English and math and other sciences, too. It's almost everything.
To help, CSN last year started offering classes late at night, when classrooms are available. They filled up almost immediately. A Biology 189 lab offered this year that goes from 10 p.m. to 1 a.m. filled up in minutes.
"I could put up a science or a math class at 4 a.m. on Sunday and I would fill it," Johnston said.
So far this year, CSN has denied entry into a particular class 76,000 times.
Seventy-six thousand times someone tried to sign up for a class that was already full. That's up from 56,000 last fall.
That is why Garcia signed up for a biology lab she had no intention of ever attending.
In order to take Biology 189, students first must have signed up for the Biology 189 lab. The labs, which last three hours, are half the size of the lecture classes. They are very, very hard to get into if a student is particular about the time and location of the lab.
Garcia was particular. She lives in Summerlin and does not own a car. She commutes to CSN's West Charleston Boulevard campus right down the road by bus.
But she signed up anyway for the lab on the Cheyenne Avenue campus — almost 20 miles away — that ended at 10:30 p.m. It was the only one that wasn't full already.
She hoped against hope that someone would trade with her. She placed a flier on the campus bulletin board that offered to trade her lab for one at the Charleston campus. She figured maybe someone else was in her same situation, but reversed. Hers wasn't the only such flier. It seems lots of students had the same idea. Such trading is starting to become common.
Darren Divine, CSN's vice president for academic affairs, called the bartering a "new level of desperation."
Divine said he expects that sort of thing to continue for a while. There is no new money coming in. Budget cuts are widely expected, in fact. And health care training is becoming a hot commodity.
Johnston said the down economy is sending many of the unemployed back to school. They are training for new careers, those where it looks like jobs will be available in the future.
Which brings us back to Garcia. She moved here from New Orleans, where she had been for three years after being raised in upstate New York. She has family here.
She wants to become some kind of scientist, a geologist or a biochemist maybe. She's only 19. She'll figure it out.
But in order to get there, she desperately needed that biology lab. In addition to signing up for the wrong one on purpose, she also stalked the biology department every day once classes started. She knew from her friends that lots of students drop classes like that one in the first week or two of school.
When someone drops, that means there is an opening for someone else.
She would arrive every day at 7 a.m., an hour before the biology department opened.
There was already a line of students outside the department.
She said the first time an opening came up, the student in front of her got it.
But she persisted. She accessed biology majors online and e-mailed them, asking for help.
"I pretty much just lived outside the biology department," she said. "Persistence is what's going to get you the class."
Soon, there was an opening. She was right there to snag it. She got the required signature, dropped the lab she had signed up for and registered for the new one.
And she'll be back next semester to do it all again.
Contact reporter Richard Lake at rlake@reviewjournal.com or 702-383-0307.