Study: Las Vegas police bias, morale are low
January 4, 2013 - 4:13 pm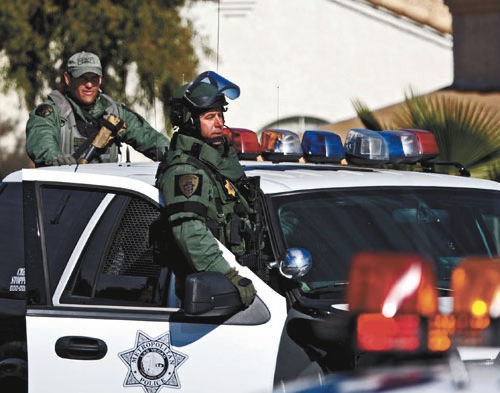 Las Vegas police officers display little racial bias, but their morale is low, and many cops don't believe the department treats them fairly, a two-year study shows.
The report, based on a survey of nearly two-thirds of the department's cops, found officers who felt least connected to the department were most likely to use severe force against blacks, but not Hispanics or whites.
"There's a segment of the department that feels as if they are being accused of something that they shouldn't be accused of. They resent that, and that's translating into negative behaviors on the street," said Phillip Atiba Goff, executive director of research for the UCLA-based Consortium for Police Leadership in Equity.
Sheriff Doug Gillespie vowed at a Friday news conference to implement the consortium's recommendations.
"I was very impressed by what I read this morning," Gillespie said. "My department needs to be willing to grow with this community, face its problems and rectify them in a public and transparent way."
The sheriff reached out to the consortium in 2009, before a spike in officer-involved shootings began to draw local and national scrutiny.
The consortium's study comes on the heels of a critical report by the U.S. Department of Justice, which late last year found the agency's use-of-force policies were cumbersome and its training inconsistent. The Justice Department's 75 findings and recommendations included specialized training for officers in "fair and impartial policing."
BIASES EVIDENT
The survey of nearly 2,200 officers included questions about department policies, fairness and diversity issues. Nearly 200 more officers volunteered for a longer survey about racial issues that compared responses with their history of citizen complaints and use of force.
Goff called it one of the most comprehensive and in-depth studies of a police department by an academic institution.
The study did not single out or provide a number for biased officers on the force, nor does it compare Las Vegas police with other departments.
"It's not that there's rampant racist officers out there – that is simply not the case," Goff said.
Still, the study does show that negative feelings about blacks are associated with more severe uses of force, such as shootings. Although Goff declined to draw conclusions based on that data, it might help explain findings of other groups.
Last year the Justice Department, drawing on data from a yearlong Las Vegas Review-Journal investigation of police in Southern Nevada, found that seven out of 10 unarmed people shot by Las Vegas cops in five years were black.
And a 2001 Nevada attorney general's office report on treatment of people during routine traffic stops showed that Las Vegas police handcuffed black motorists at a far higher rate than others.
The consortium study also found that:
■ The more an officer expected respect from residents, the more complaints were made about the officer.
■ Those who said being a cop was important to their identity drew fewer complaints.
■ Officers who feel they're treated well by the department were less likely to engage in biased use of force.
DIVERSITY ISSUES
While the study itself doesn't compare Las Vegas with other agencies, Goff said overall biases by officers here were lower than other departments. But Las Vegas cops bucked the trends in other departments when it came to morale and diversity training, he said.
When asked about the department's diversity training, the most common response from cops was the most negative choice, "not at all valuable."
That was unusual, Goff said.
"Diversity training usually gets high marks, particularly in surveys like this," he said.
White officers were significantly more negative toward diversity training than nonwhite officers, the study found. When asked to elaborate, one officer wrote that his nonwhite instructor "spoke to the class like we were a room full of inmates being punished."
Another officer wrote: "All diversity training basically states that if you are white you are wrong, and that everyone else's culture takes precedence over society's established norms."
In conversations with the study's authors, officers said the resentment toward such training has become prevalent only recently in light of media scrutiny and the department's response to it.
A negative attitude went hand-in-hand with a feeling that the department treats officers unfairly, the study found.
On a scale of one to six, with six being highest, officers rated the agency's procedural justice a 3.2 – "markedly lower than ideal," the study's authors wrote.
"It does suggest that the department, as a whole, feels a degree of ambivalence towards elements of authority within LVMPD," they wrote.
FINDING SOLUTIONS
To change, the consortium recommended the department integrate diversity training into other training, such as use-of-force sessions. They also recommended requiring upper management undergo "science of contemporary bias" training, creating an officers' advisory council that reports to the sheriff, and rewarding excellence.
A recommendation to monitor situations where officers stop pedestrians drew praise from Allen Lichtenstein, general counsel for the American Civil Liberties Union of Nevada, which has been critical of the department.
"I was happy to see that," he said. "We've been asking for it for a long time now. Let's see if the department really does it or just gives it lip service."
Goff said the department's effort can measure officers' interactions with the public.
He wants to standardize such data collection among multiple agencies.
Gillespie said there shouldn't be a financial impact in implementing the changes, but Goff said success requires a buy-in from the public.
"This is a community issue, in addition to being a training and internal issue," Goff said.
Contact reporter Lawrence Mower at lmower@reviewjournal.com or 702-405-9781.
CPLE Report