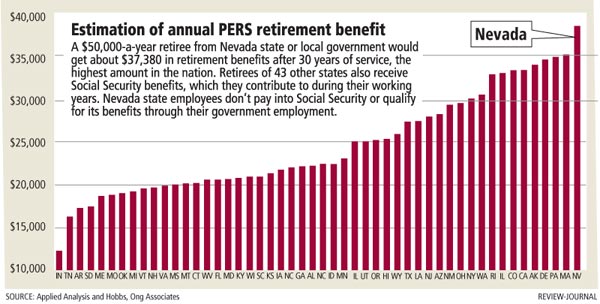 CARSON CITY — The retiree-friendly Public Employees Retirement System has become such a drain on state and local government resources that more important programs are going underfunded, according to a Las Vegas Chamber of Commerce study released today.
PERS now has a $6.3 billion debt that could increase and keep the state from adequately funding public education and health care, the study said.
The pension plan, which the study said is "among the nation's most favorable public employee retirement systems," provides a $37,380 annual pension to general government workers earning annual salaries of $50,000 who retire today after 30 years on the job.
Those hired since 2001 would receive the same benefit if they retire after working 28 years.
"We think the program is too rich," said Steve Hill, the incoming chamber chairman. "It is the Rolls-Royce of public employee pension plans."
The pensions PERS gives retirees compare with a maximum $26,220 a year that Social Security offers retirees who quit working at age 66 or 67.
But the average PERS pension is $2,216 a month, $27,692 a year, PERS Executive Officer Dana Bilyeu said.
She said the typical PERS retiree received a $45,000 maximum salary, began work at age 36 and retired after 20 years.
But many of them worked previously in jobs in which they paid into Social Security and also will receive those benefits.
Hill said state and local governments in Nevada now pay more than $500 million in retirement contributions in each two-year budget cycle to keep up with the unfunded liability of PERS.
Nearly 104,000 state and local government workers and teachers and school staff members are PERS members. Another 37,000 retired workers are receiving benefits.
PERS invests more than $22 billion of its assets to achieve at least an 8 percent annual return. That return is the minimum actuaries think is necessary to keep the program solvent and eventually become fully funded.
But the program's assets are 77 percent of what is needed to cover the long-term retirement benefits of its current members and retirees. That percentage is down from 85 percent in 2000.
The decline in part is because of stock market losses in the three years after the Sept. 11, 2001, terrorist attacks.
Bilyeu said investments have exceeded the 8 percent desired return in four of the past five years, but in the past fiscal year fell 3.4 percent because of the newest stock market decline.
As a result, the 20.5 percent retirement contribution rate that by law must be paid equally by workers and government on each employee's wages is 9.3 percent higher than a decade ago and might have to increase again.
"It is like re-mortgaging your house every year," Hill said. "Because we have to come up with $500 billion a biennium toward the debt, we are potentially wasting money that could be put to use in programs that have a much higher priority."
That latest drop in investment returns, reported last month, was too late for the chamber's analysts, Hobbs, Ong & Associates and Applied Analysis, to consider in the study.
Although he has not prepared recommendations for the Legislature, Hill said PERS could be switched from a "defined benefit" to a "defined contribution" plan in which local governments and the state would pay a set percentage each year toward their employees' retirement, which would save them money.
Such a program would be like the 401(k) plans that many private companies offer their workers. The contribution rate would not increase even when investment returns are low. Under the defined-benefit plan, PERS members receive a set pension based on their years of service and pay.
Hill said the Legislature also could consider increasing the minimum retirement age for public employees to make it more in line with the Social Security plan.
But Gov. Jim Gibbons said Monday he and former Gov. Kenny Guinn both have recommended changes to PERS designed to stabilize government contributions that were rejected by the Legislature.
He doubts any move to tinker with PERS will be approved at the 2009 session.
"They have been resisted by the Legislature," Gibbons said. "I am not sure there is legislative appetite to make adjustments even at this point."
Even with the latest decline, Bilyeu said the PERS investment return put it in the top third of public employee pension plans.
Noting the report itself said PERS is "generally considered to be well managed and prudently administered," Bilyeu contended the chamber's real beef is not with PERS but with the collective bargaining system.
Through collective bargaining agreements, local governments in Nevada pay most, if not all, of the workers' share of contributions to PERS.
Bilyeu said the chamber is concerned about the effect of collective bargaining on local government payments to PERS.
A Nevada law requires workers and governments to share equally in paying the 20.5 percent cost of providing PERS retirement coverage to government employees; 10.25 percent is deducted from employees' wages, and the governments pay a similar share.
The total contribution rate is 33.5 percent of the salaries for police and firefighters.
More than 80 percent of public employees have elected to participate in the "employer-pay" plan. Under the option, employers pay all retirement contribution costs. But the pay scale of state employees was lowered several decades ago by 10.25 percent to reflect their participation in the employer-pay plan.
On the other hand, local governments during collective bargaining with unions have agreed to cover their employees' share of PERS contributions, Hill said.
Hill said a chamber study in June showed local government workers in Nevada receive average pay that is 31 percent higher than their counterparts across the nation. But they might be receiving nearly 42 percent more than their counterparts because the local governments are covering their PERS contribution costs, he said.
State employees in Nevada do not have collective bargaining rights, and their pay is 2.4 percent higher than the national average for state employees.
Bilyeu takes the position that state and local governments follow the law and that all of their employees pay half of the required retirement contributions to PERS.
She said employees, therefore, also pay half of the long-term debt costs, including half of the $500 million during the current budget period.
Bilyeu said only judges and local government elected officials have their entire share of PERS contributions paid by their employers, the taxpayers.
Despite Hill's contentions, Nevada State Education Association President Lynn Warne said teachers and local government employees do not have all of their PERS contribution costs paid by taxpayers.
Warne, a fourth-grade teacher, said the 2 percent pay increase she received last year turned into a 1.63 percent increase because some of the increase went to cover her PERS contribution.
"What happens depends on what is bargained," she said. "It varies by the districts."
Warne said the PERS retirement plan is a benefit that school districts can use in trying to attract new teachers.
Assemblyman Ty Cobb, R-Reno, has prepared a bill draft request for the 2009 Legislature to replace the PERS system with a defined- contribution plan for future employees.
"We can't keep having taxpayers make up deficits when the stock market goes down," Cobb said.
He said state government cut spending by $1.2 billion because of the economic downturn. The state operates under a two-year budget of $6.8 billion that ends next June.
That reduction would have been less if the state did not have to cover the unfunded liability of PERS, he said.
"We had to turn teachers away this year because of lower enrollment," Cobb said. "The idea government has to give more benefits than anyone else to attract employees is ridiculous. We ought to act like the private sector in how we run government."
Assemblyman Marcus Conklin, D-Las Vegas, figures it would be a mistake to switch to a defined-contribution plan because the move would hurt recruiting for public employees and teachers.
"How many states have defined-contribution plans?" he asked. "There is a reason it is so low."
Michigan, Nebraska and Alaska have defined-contribution plans.
Under PERS' defined-benefit plan, general government workers can retire in their early 50s if they have worked 30 years.
Their benefit would be 75 percent of their average earnings during the three years at which they received their highest pay.
Police and firefighters receive that benefit after 25 years of service. Some can retire as young as age 46.
PERS employees on the average also receive benefits for 12 years more than employees outside the pension system.
Contact Capital Bureau Chief Ed Vogel at evogel@reviewjournal.com or 775-687-3901.
ON THE WEB Chamber of Commerce report