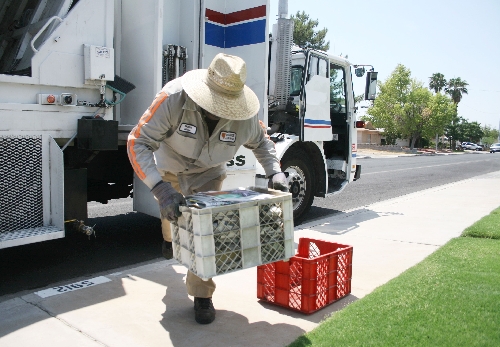 The idea of hauling away both recycling waste and trash once a week proved much more popular among those in a pilot program than with nonparticipants, who still strongly prefer twice-a-week garbage pickup, according to a study presented to Clark County commissioners Tuesday.
Republic Services, which paid for the study, caused an uproar several years ago when it proposed reducing twice-a-week garbage service to once a week and picking up recycling bins weekly instead of every two weeks.
The company launched a pilot program last year in which selected households were given a 96-gallon, rolling container to hold all of their recycling items, instead of three colored boxes. An estimated 50,000 households are in the program, including 6,600 in unincorporated areas.
Of the 303 pilot-program participants who were surveyed in the county's jurisdiction, 54 percent said they supported weekly trash and recycling service. In contrast, 26 percent of the 316 nonparticipants polled said they would prefer to have both their garbage and recycling waste picked up weekly.
More than half of all respondents said they would be willing to pay $3 more per month to have their trash hauled away twice a week and their recycling items taken weekly.
Commissioner Susan Brager expressed doubts about most respondents wanting their garbage picked up once a week, especially in the summer when bad odors flourish in the heat.
"It's horrific," Brager said, describing the stench.
But Commissioner Larry Brown said that Las Vegas is not the hottest area in the Southwest. He said he would like the county to research whether hotter regions that have less frequent trash pickup contend with stinking garbage.
County residents pay extremely cheap trash-hauling rates, compared with much of the country, Brown said.
Still, residents need to know the benefits of recycling beyond helping the planet, such as lengthening a landfill's life and reducing a household's garbage bill.
"Is there a value to the citizen?" Brown said. "That needs to be part of the debate."
Some neighborhoods in the program have weekly garbage and recycling service. Some have twice-weekly garbage and once-a-week recycling. And some have twice-a-week trash pickup and biweekly recycling.
University of Nevada, Las Vegas did the survey and compiled the 37-page report on the program.
Tara Pike, who oversees UNLV's recycling services, said she was encouraged that 67 percent of respondents said they recycled more after becoming involved in the pilot program.
She said she was pleased that 54 percent of those who were interviewed preferred the once-a-week trash and recycling service.
They discovered that if they recycle more, they do not need to dispose of trash twice a week, she said.
Pike strongly supports weekly pickup for both types of waste. If trash is picked up twice a week, people have less reason to recycle, she said.
"I think garbage needs to be equal to recycling," Pike said.
The study's other findings include the following:
■ About 90 percent of respondents thought a 96-gallon, wheeled container was better than three tubs.
■ The older the respondents, the less receptive they were to once-a-week garbage pickup or higher fees for more frequent recycling.
■ Households with two or three people were most open to weekly trash pickup and recycling. Single-person households were least inclined.
■ About 32 percent of those not in the pilot program say they never recycle, while 46 percent say they always recycle. About 21 percent in the category say they recycle at least sometimes.
Commissioner Chris Giunchigliani said she was troubled that a third of households don't recycle. The county must find a way to encourage them to get on board, she said.
Bob Coyle, Republic Services area president, said the pilot program has had a noticeable effect on the neighborhoods participating. In such areas, the part of waste diverted from the landfill increased to 25 percent from 3 percent, he said.
Coyle said he was not sure how long the pilot program would continue. It probably will roll along until the county or cities establish a new method of recycling or decide to stick with the current one, he said.
A lot of residents seem to support weekly trash and recycling service, Coyle said. "It shows that people think it's a good program."
Contact reporter Scott Wyland at swyland@reviewjournal.com or 702-455-4519.
Assessment of Republic Services Clean Community & Enhanced Recycling Program
CLARK COUNTY Cost/Benefit Analysis – Waste and Recycling Services