'Stupid but also criminal': Simpson co-defendants go free
December 10, 2008 - 10:00 pm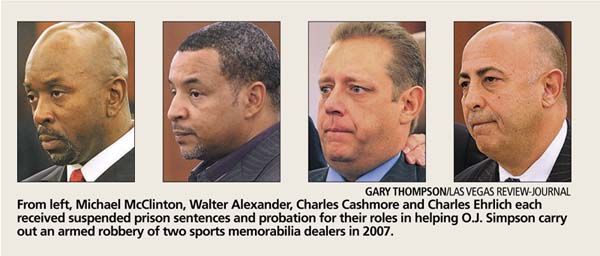 A day after O.J. Simpson became Nevada prison inmate No. 1027820, four men who helped the fallen football star carry out last year's hotel room holdup at the Palace Station left the courthouse as free men.
Michael McClinton, Walter Alexander, Charles Cashmore and Charles Ehrlich, who each pleaded guilty to reduced charges and testified for the prosecution at trial, all received suspended prison sentences and probation for their roles in the Sept. 13, 2007, armed robbery of two sports memorabilia dealers.
During Tuesday's sentencing hearing, District Judge Jackie Glass called the men's actions that day "stupid but also criminal." She noted their cooperation and acceptance of responsibility before handing out the sentences.
Prosecutors did not recommend prison time for any of the quartet.
The sentencings came four days after Glass sent Simpson, 61, to prison for nine to 33 years. His 54-year-old co-defendant, Clarence "C.J." Stewart, will serve 71/2 to 27 years.
A jury convicted both men Oct. 3 on 12 charges, including kidnapping and armed robbery, in connection with the stickup of Bruce Fromong and Alfred Beardsley.
Stewart, who was awaiting his transfer to the prison system, sat in the courtroom Tuesday morning in handcuffs and shackles with other jail inmates. He was there for a restitution hearing that ended up being postponed.
"I thought the sentencing was interesting," said Brent Bryson, one of Stewart's lawyers. "The guys who had the weapons got probation, and Mr. Stewart, who didn't even know about the weapons, is doing 71/2 years."
Stewart faced mandatory prison time on the two kidnapping convictions, but considering what happened in that hotel room, "it just doesn't make sense in the grand scheme of things," Bryson said.
Stewart "strongly considered" a plea agreement prosecutors put on the table during trial but rejected it, the attorney said.
Simpson lawyer Gabriel Grasso said he and fellow lawyer Yale Galanter also turned down a plea agreement during the trial.
"We made our bed," Grasso said. "We went to trial. We tried to get an acquittal at trial, and we failed at that. And O.J. is going to have to pay the consequences until his appeal."
Simpson and Stewart plan to appeal their convictions to the Nevada Supreme Court.
McClinton, who pulled a handgun out and barked orders during the robbery, faced up to 11 years in prison after pleading guilty to robbery and conspiracy to commit robbery.
His lawyer, Bill Terry, told the judge that McClinton felt "a little bit of pity" toward Simpson and thought he was helping recover family heirlooms that had been stolen from the football hall of famer.
"He was asked to bring a gun. He brought a gun. He was asked to be menacing. He was menacing," Terry said. "He played his role."
When Glass announced she would give McClinton probation, Fromong blurted from the courtroom gallery, "You've got to be joking me."
Court marshals immediately banished him from the courtroom and escorted him from the Regional Justice Center.
McClinton was given four years of probation and a suspended prison sentence of two to seven years.
Hours later, Fromong's anger was still fresh as he talked about his disappointment in McClinton's sentence.
"I was outraged. I couldn't believe it," he said. Glass "might as well have stuck a gun in my face again."
Fromong, a gun ownership advocate, said McClinton had a concealed-weapons permit and should have been held to a higher standard for using his gun in a crime.
"He was not just backing O.J. up," he said. "He was a thug with a lethal weapon."
Beardsley said that he was "thoroughly disgusted" with the sentence and said that McClinton was the one brandishing a weapon.
Alexander, who carried a handgun in his waistband, received four years of probation and a suspended sentence of one to four years. He had pleaded guilty to conspiracy to commit robbery.
"I just thought I was doing a friend a favor," Alexander said of his role.
He promised to be a "model citizen" on probation.
Cashmore, who pleaded guilty to accessory to robbery, received three years of probation with a suspended sentence of one to three years.
Ehrlich, once a close friend of Simpson, received three years of probation and a suspended sentence of 11/2 to four years. He pleaded guilty to attempted accessory to robbery and attempted burglary.
Outside court, Ehrlich said staying out of prison would allow him to care for his elderly parents in Florida.
He said Simpson misled him into helping on the day of the robbery, but he held no ill will toward him.
"Do I forgive him? Yes. Do I feel bad for him? Yes," Ehrlich said. "Do I hate him? No. He just made a stupid mistake."
Contact reporter Brian Haynes at bhaynes@reviewjournal.com or 702-383-0281.