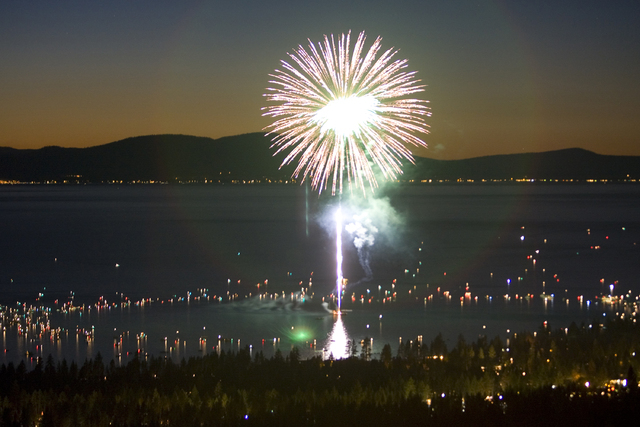 RENO — A federal lawsuit accusing the Lake Tahoe Visitors Authority of polluting the alpine lake with debris from Fourth of July and Labor Day fireworks says the tourism agency and its contractor should be subject to up to $75 million in fines.
Joseph and Joan Truxler of Zephyr Cove, on the lake's southeast shore, insist their lawsuit is not intended to halt the spectacular, boat-launched displays that have wowed tens of thousands of visitors for three decades.
But they're frustrated by what they say is the authority's indifference — and state and U.S. regulators' failure — to protect the cobalt blue lake from the debris and chemical pollutants.
"The inaction on their part is what has triggered all this," Joan Truxler said.
The lawsuit filed in U.S. District Court in Sacramento in November alleges that thousands of violations of the Clean Water Act were committed over five years.
Judge Troy Nunley agreed last week to extend until Feb. 10 the deadline for the authority and Pyro Spectaculars North Inc. to respond to the lawsuit.
Both are accused of discharging trash, debris, munitions and chemical residues — including perchlorate, nitrate and sulfur — into the lake twice a year for at least the last five years.
The lawsuit says that they failed to obtain the necessary discharge permit in violation of the federal act and are violating California and Nevada state water quality standards strictly prohibiting debris on the lake.
Pyro Spectaculars of Rialto, Calif., has produced large-scale pyrotechnic displays for Super Bowls, Olympics, Disneyland, the Statue of Liberty and Golden Gate Bridge since it was founded in 1979.
Crews begin to clear the surface of the lake soon after the show and divers are sent below to retrieve visible debris from the lake bed, but the lawsuit contends those efforts are ineffective.
Joan Truxler started gathering paper, plastic and cardboard tubes — some with Pyro's label — on Pinewild Beach in Marla Bay on July 5 after her 2-year-old grandson held up a fireworks fuse and said, "Look, Grandma."
"It was alarming," she said, especially after fire officials had warned that washed-up, unexploded fireworks could pose a danger if they dried out. By Aug. 23, she'd collected enough debris to cover a 60-square-foot surface, she says.
Carol Chaplin, the authority's executive director, can't picture a Fourth at the lake without fireworks. "We've been shooting them off for 30 years and this is the first time there has been a complaint," she said. "It's an iconic event. It has a huge economic impact for the region."