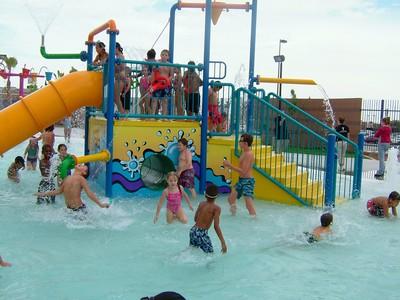 For hundreds of families across the valley, summertime means Y time, and for good reason. As temperatures rise, so does anticipation for swim lessons, summer camps, pool parties and countless hours of water park fun. According to Jeff Treslley, vice president of operations and branch executive of the Centennial Hills YMCA, the Y is in the midst of its most exciting summer ever.
"When it comes to summertime fun, the Y has it all," Treslley said. "Families know that we're a one-stop shop for all of their needs, from kicking back and cooling off at our state-of-the-art water parks to swim lessons and camps that teach invaluable skills to last a lifetime. Add to that the affordability factor, and the Y becomes the ideal home away from home when school's out."
Three YMCA branch locations are conveniently located throughout the Las Vegas Valley. The Bill and Lillie Heinrich YMCA, 4141 Meadows Lane; Durango Hills YMCA, 3521 N. Durango Drive and Centennial Hills YMCA, 6601 N. Buffalo Drive all offer easy highway access and a full slate of camp and summertime activities.
In addition to traditional Y camp, which includes indoor and outdoor games, character development activities, arts and crafts and swim lessons, youth can also participate in dozens of specialty camps. Sports camps that offer instruction in everything from basketball to wrestling to extreme sports are available. And the Y's specialty camps, which have been updated for 2009, are among the most popular offerings.
"Rock climbing camp, scrapbooking camp, roller skating camp and many others are big favorites," Treslley said. "Our specialty camps are wildly popular because they expose youth to new activities, some of which many kids will only experience through Y camp."
New for 2009 is before and after care for campers whose parents need a little extra time getting to and from the Y due to their work schedules. Treslley said it's just one more way the Y is accommodating parents' needs.
The YMCA's water parks also provide endless hours of family fun. Multistory flume slides, swirlpools, splash zones and pristine pools await water lovers of all ages. Access is free to YMCA members and Sizzlin' Summer pass holders; the daily cost without membership is $4 per person. The Y's water parks are open through Labor Day.
Families, work groups and social organizations can also rent the Y's facilities for pool parties — the perfect setting for family reunions, graduation parties and staff retreats. Private pool rental is available Saturdays and Sundays, and includes lifeguards.
"We're all watching our budgets a little more closely these days, but health, wellness and family fun are areas that shouldn't be sacrificed," Treslley said. "The Y's programs are priced affordably, so families can continue to make memories without the financial stress. We couldn't be more excited about the hot months ahead."
For more information, visit www.lasvegasymca.org or stop by the front desk of any branch location.