Sunset Quick Care tries to survive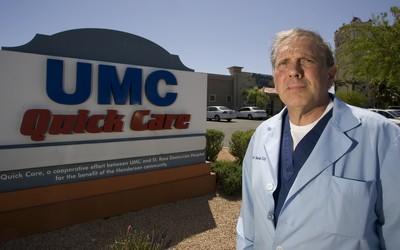 Nearly a week after UMC administrators presented to its board several options to trim the hospital's anticipated 2008 budget deficit, the staff at its Sunset Quick Care has begun taking measures to ensure the facility — and the health care it provides to the community — stays in operation.
Staff members at the center are handing out letters to patients asking them to call Clark County Commissioners Bruce Woodbury and Rory Reid and voice their concerns about the possible closure of Sunset Quick Care, one of 11 run by UMC throughout the Las Vegas Valley.
The center offers primary and urgent care services and is within Woodbury's district.
"We're all depressed down here. It feels as though someone just shot Bambi," said Dr. Wayne Buchwald, senior physician at Sunset Quick Care.
"What annoys me the most is that whenever something happens, it's always 'cut this or cut that."'
Buchwald is scheduled to meet with Woodbury and Clark County Manager Virginia Valentine next week to discuss the issue.
Sunset Quick Care was mentioned as a possible cut during a preliminary budget meeting last week by the hospital's board of directors, made up of County Commission members. At that time, interim CEO Kathy Silver presented several options to reduce the looming deficit, including cutting the hospital's pediatric endocrinology clinic, the Lions Burn Care Center, a family resource center, the neonatal intensive care unit and the McCarran and Sunset quick cares.
Silver said the reasons McCarran and Sunset made the list were twofold: They lose more money than the other clinics and relatively few patients are being transferred or referred to UMC from those centers. Silver pointed out that 58 percent of patients who seek treatment at UMC Quick Cares have a commercial HMO or PPO plan. The rest have Medicare, Medicaid or some other public health plan or self-pay.
UMC officials would like to see more patients covered by commercial plans come into the hospital, but they believe those patients are seeking treatment elsewhere when they need additional care.
In 2006, for example, 694 patients were transferred from the Sunset Quick Care to a hospital for additional care. Of those, only 192 went to UMC. In contrast, the Nellis Quick Care transferred 660 patients to UMC out of 750 who were referred to a hospital.
"When they (hospital administrators) came down and presented this information to us before the budget meeting, we told them a lot of patients don't want to drive all the way to UMC," Buchwald said. Sunset Quick Care is located at Marks Street near Sunset Road in Henderson.
"We asked them (UMC administrators) how many transfers does it take to keep us open? They didn't have an answer," Buchwald said. "The Sunset Quick Care had more than 35,000 patient visits last year; those patients have to go somewhere. Some will go to the Boulder Quick Care but the majority will end up in someone's emergency room, such as at St. Rose."
St. Rose Dominican Hospitals' Rose de Lima campus is the closest hospital to Sunset Quick Care, about five miles away at the intersection of Lake Mead Parkway and Boulder Highway.
Buchwald, who believes UMC's financial troubles stem from poor contracts with commercial health care plans, said he will propose to Woodbury and Valentine that a $1 room tax on visitors to Clark County or a $1 entertainment tax on tickets to Las Vegas shows be levied to help the ailing hospital.
"If you pay $100 for a show, what difference would it make if it goes up to $101," he said. "We've got to generate funds for this hospital."
Additionally, Buchwald said he's going to ask county officials to pursue financial help from the community.
"We're not in Pittsburgh where the steel mills died. We're in Las Vegas where there are visitors," he said.
"Why not ask Celine Dion to do a (charity) show for UMC? We could ask Jimmy Buffett to do the same," he said. "The Lied Animal Shelter recently did a $1,000-a-plate dinner to generate money."
Buchwald said people don't see an incentive to go out into our community and generate funds, but they should. "People can deduct those donations from their taxes. There's absolutely nothing wrong with that."
Cheryl Persinger, a spokeswoman for UMC, said although seeking funds from the community certainly would help, the hospital has received donations in the past through its Foundation and still had to turn to the county for more financial assistance.
Buchwald also plans to ask Woodbury and Valentine to again review all of the hospital's contracts, especially with the major health insurance plans, to see if UMC could squeeze a little more out of them. He would also like to expand the hours of operation for Sunset Quick Care's primary care services and the physicians that work there.
He'd like to have primary care services available until 6 p.m. to attract the after work market. Currently, primary care services are open until 3 p.m. Urgent care is offered at the center from 8 a.m. to 8 p.m.
In response to questions about the impact a possible closure of the Sunset Quick Care center might have on the Rose de Lima hospital, St. Rose Dominican Hospitals' officials said they were confident that the 21-bed emergency unit can absorb any additional patient volume.
"In fact, the Rose de Lima emergency room already has a special minor acute care unit in place designed to efficiently treat less serious patients in a timely, expedited manner," Michael Tymczyn, a spokesman for St. Rose, wrote in an e-mail.
Larry Gage, president of the National Association of Public Hospitals, said it's not uncommon for large public teaching hospitals around the country to consider eliminating services, laying off staff and taking other unpopular steps when faced with a fiscal crisis. He said this is particularly true of public hospitals, such as UMC, that have tried to survive primarily on patient care revenues and not state or local subsidies. UMC is a member of the association.
"I understand that when the Lewin Group compared UMC to other public hospitals in terms of proportion of local support, UMC was at the bottom of the list in terms of least amount received to financially support the hospital," Gage wrote in an e-mail. "Not everyone can pay for them but they must be available to all. When confronted with a similar crisis three years ago, Los Angeles County voters chose to raise taxes to support trauma care, so the decision is not always to close needed services."
The Lewin Group is a health care consulting firm hired by the county to study options for UMC.
Clark County spokesman Dan Kulin said Tuesday that commissioners are receiving feedback from the public about the options presented to the board last week. Commissioners would like to hear from the public, he said.