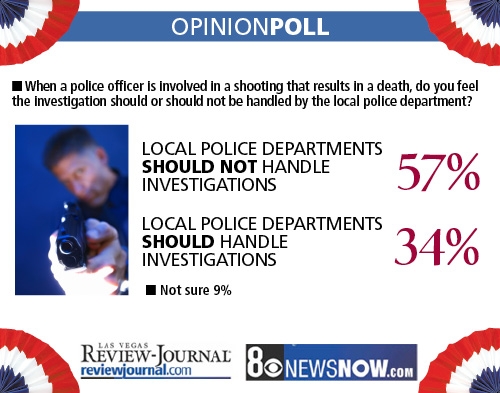 A solid majority of Nevada voters would prefer that police departments have someone else investigate when an officer is involved in a fatal shooting, according to a statewide survey commissioned by the Las Vegas Review-Journal and 8NewsNow.
Fifty-seven percent of respondents statewide said police agencies should not investigate shootings by their own members, though the survey revealed a clear north-south split in opinion.
In Clark County, where Las Vegas police have shot 18 people, killing five, so far this year, 60 percent of respondents favored outside review. In Washoe County, where police shootings are less frequent, 43 percent backed independent investigations.
When broken down by demographic groups, men, women, Democrats, Republicans, independents and rural residents all favored outside investigations.
The results were unexpected. Though the most public review of shootings, the coroner's inquest, has often come under fire in the past, critics of the process have not generally called on departments to hand off investigations.
"It boils down to, who's the most qualified to do the investigation?" said Bill Sousa, a criminal justice professor at the University of Nevada, Las Vegas. A police department's "core competency is to investigate crime, and specifically homicide, so the issue becomes 'if not them, who?' "
How police investigate their own varies widely.
In the Metropolitan Police Department, the state's largest law enforcement agency, homicide detectives investigate all officer-involved shootings. The North Las Vegas and Henderson police departments have detectives from their crimes-against-persons units handle shootings.
That approach is common across the country, though the process is different in rural Nevada and in the Reno area. The Nevada Department of Public Safety, when asked, will investigate officer shootings in rural areas, where resources and expertise are scarce. The state also has other agencies investigate all shootings involving its personnel.
"We want an independent look at those cases," DPS Deputy Director Chris Perry said.
In Washoe County, no department leads investigations into its own shootings, said Deputy Armando Avina, a Washoe County Sheriff's Office spokesman.
Each of the three departments in that county – the Reno and Sparks police departments and the sheriff's office — have representatives on a task force that looks into the incidents.
Similar measures have not been debated in Clark County, at least in the past decade.
"People have not questioned how it is that we investigate these" shootings, Clark County Sheriff Doug Gillespie said. "The questions that tend to arise are more, 'What type of information tends to arise at the inquest?' "
Though critical of the inquest process and police procedures, the American Civil Liberties Union of Nevada, doesn't advocate outside investigations.
ACLU staff attorney Maggie McLetchie said overhauling the inquest process would provide an adequate check against abuse and improve public perception.
The coroner's inquest is itself highly unusual because of its openness and because a jury decides whether the officer's actions were justified, excusable or criminal. In Washoe County, as in most places, the district attorney makes that decision behind closed doors.
Still, an open hearing isn't always enough. The inquest system has been seen as biased in favor of the police. Cross-examination of witnesses or officers who take the stand is not allowed, and the deputy district attorney who oversees the inquest also counsels officers beforehand.
Only once in 34 years has a Clark County inquest jury determined a shooting was not justified.
Some in law enforcement, such as former Clark County Sheriff Bill Young, feel the inquests' poor reputation has rubbed off on police.
"I do think the inquest system could use a few tweaks," he said. "I do think the inquest system could use a bit more adversarial-ness in it, in that the officers could be asked questions in a little bit more of an aggressive format."
But he strongly disagreed with the notion that police shouldn't handle their own investigations, saying, "Metro's crime scene investigators and homicide detectives are the best investigators in the state of Nevada, bar none."
Officer Laurie Bisch, who is running against Gillespie for the sheriff's seat this year, has been critical of the inquest process. While she disagrees with taking away the department's ability to investigate its own shootings, Bisch said she would be open to also having other agencies participate.
"We're the biggest, we're the best-trained, and as long as you have somebody in there to be part of the investigation, I don't see why that would hurt," she said.
That approach is the norm for some major police departments in the West. Salt Lake County, Utah, police shootings are reviewed by a case team made up of members from the officer's department, another police department in the county and the district attorney's office. The district attorney ultimately makes the decision on whether the shooting was justified, without a public inquest.
In Denver, deputy district attorneys are directly involved in taking video-taped witness statements. The district attorney has the ultimate say on the case, but the police department's investigative case file is later opened for public review.
Gary Peck, a longtime critic of police practices, said having a third party investigate shootings does not mean that police are incapable of handling the incidents themselves. Rather, the change would guard against real or perceived institutional bias.
"In general, the public and the police are best served when investigations into officer-involved shootings are conducted by independent disinterested third parties," Peck said.
But there are benefits to having a department looking at its own officers, said North Las Vegas police Sgt. Tim Bedwell. Having an outside agency or a district attorney handling the case makes the investigation an adversarial process. He said that could prompt the officer to not talk to investigators, and the officer's testimony is crucial to the investigation.
"You're dealing with officers who were just in the most stressful situation of their life," Bedwell said. "In most cases they've made a life-or-death situation that could have ended in their death. We want them to feel comfortable and be totally open and honest about what happened."
And the investigations do not always exonerate the officer.
North Las Vegas police have had one officer-involved shooting this year, when former officer Bryan Kolstad claimed to have shot a suspect who had shot him in the badge. The department determined that Kolstad fabricated the tale. He was arrested on two misdemeanor charges and faces a preliminary hearing next month.
Mason-Dixon Polling & Research of Washington, D.C., conducted the poll Monday through Wednesday. A total of 625 registered voters were interviewed statewide by telephone. The margin of error is plus or minus 4 percentage points.
Contact reporter Lawrence Mower at lmower@reviewjournal.com or 702-383-0440.