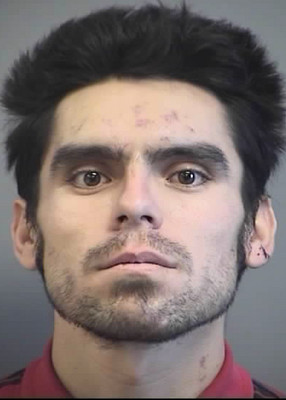 One inmate found dead early Thursday and another accused of his murder had shared a cell at the North Las Vegas Detention Center for just one day, North Las Vegas police said.
Officers found the body of a 31-year-old male inmate under a mattress, bleeding from the face and not breathing during routine cell checks around 2:30 a.m. Thursday.
Armando Munoz-Ornelas, 25, who was sharing the cell with the victim, was booked on one count of murder, said North Las Vegas police spokeswoman Chrissie Coon.
Munoz-Ornelas was booked into the detention center Tuesday and was being held on a federal Immigration and Customs Enforcement hold.
The suspect was in the process of being deported from the country. He was slated to appear before a deportation judge today, Coon said.
Virginia Kice, spokeswoman for ICE, said Munoz-Ornelas was facing deportation after he was arrested by local police.
The North Las Vegas jail serves as a holding center for federal prisoners in Southern Nevada under contracts with federal marshals and ICE, Kice said.
"He's been remanded to the custody of local authorities so they can pursue the murder investigation," she said. "The murder case will take priority."
When that's adjudicated, he will be turned over to ICE custody, Kice said.
Police did not release the identify of the victim, who was pronounced dead at the scene. He was booked into the detention center on March 16 on misdemeanor charges of trespassing and loitering where children congregate.
Motive and cause of death were not immediately known.
"We have had suspects that have died in custody, but very rarely would we have an inmate killed in custody," Coon said.
Coon said both men went through a procedural interview to assess whether they would pose a threat to themselves or others. Neither was deemed a threat or flagged as a known gang member, Coon said.
Contact reporter Maggie Lillis at mlillis@ reviewjournal.com or 702-383-0279.