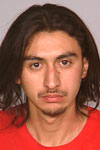 A 23-year-old male suspect in the fatal weekend shooting of 21-year-old Brandon Gahagan outside a southeast Las Vegas restaurant was arrested Monday, jail documents show.
Carlos E. Orellana was booked without bail into the Clark County Detention Center on charges of murder with a deadly weapon and attempted murder with a deadly weapon.
Las Vegas police said Orellana was the gunman in the slaying of Gahagan, who was shot outside the Olive Mediterranean Grill and Hookah Bar, 3850 E. Sunset Road, near Sandhill Road. Two other men also were injured.
On Monday, a friend remembered Gahagan as an athletic jokester who loved making others laugh.
"For those who knew Brandon, I cannot fathom or understand why somebody would commit something so stupid," Ashley Carrillo said.
Gahagan was a part-time model who worked at the Palms pool. Another man was shot and one man was beaten in the incident, which occurred early Sunday.
Gahagan played football and ran track at Mojave High School in North Las Vegas before graduating in 2005. He played both sports at Pasadena City College in Southern California before returning home because he was homesick, Carrillo said.
He talked about attending the University of Nevada, Las Vegas, and playing football there, she said.
"He had such a bright future ahead of him," Carrillo said.
Gahagan's work as a model included being featured in print ads for Urban Fuel, an anti-smoking program under the Southern Nevada Health District with the slogan, "Smokefree and Sexy."
Carrillo said Gahagan broke an arm and got stitches after getting into a fight at a party a couple of weeks ago. She didn't know if the shooting was related.
"It's stupid," she said. "People can't fight anymore. They have to use weapons. It's just senseless."
Contact reporter Brian Haynes at bhaynes@reviewjournal.com or 702-383-0281.