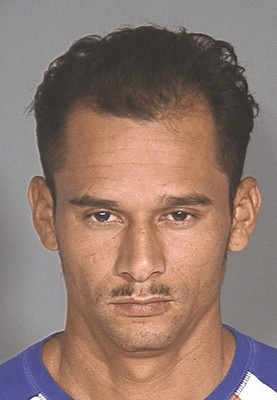 The day laborer arrested in the crowbar slaying of a Las Vegas woman had been arrested previously for robbery, police said Monday.
Yiorkis Pineda-Laurencio, 32, is being held in the June 28 slaying of Otilla Soares, the woman he was hired to help with yard labor, according to the Metropolitan Police Department.
Pawnshop records led authorities to the Las Vegas home of Pineda-Laurencio, who admitted to striking Soares outside her home, according to a police report.
Soares' husband, Virgillo, found her body facedown in the bushes and several pieces of jewelry missing shortly after 10 a.m. June 28. Virgillo Soares hired Pineda-Laurencio outside a Home Depot the day before to perform yard work at the couple's home on Stewart Avenue.
According to the police report, Virgillo Soares returned to the store for supplies soon after Pineda-Laurencio returned to the house for a second day of work. The husband said his wife was pruning trees when he left.
He said that when he returned an hour later, he found a crowbar near his wife's body, their home ransacked and the hired laborer gone.
Pineda-Laurencio was arrested Friday on charges of murder with a deadly weapon and robbery.
Pineda-Laurencio said Otilla Soares became upset when her husband left and lunged at him with pruning shears, according to the police report. He said he used a "metal stake" to strike her in the back of the head before she fell to the ground, the report said. He fled on the black mountain bike he arrived on.
Investigators retrieved several pieces of jewelry, including Otilla Soares' wedding ring, from two area pawnshops and traced Pineda-Laurencio to a North Sandhill Road address.
Police said Pineda-Laurencio has two prior offenses — grand larceny and burglary — on his criminal record stemming from a November 2005 arrest. He is being held at Clark County Detention Center on charges of murder with a deadly weapon and robbery.
Virgillo Soares could not be reached for comment Monday.
Contact reporter Maggie Lillis at mlillis@reviewjournal.com or 702-383-0279.