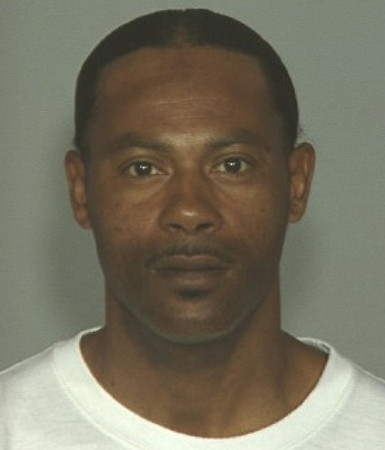 For the second time in 10 days, a Las Vegas woman in her 60s was beaten in her home by a man asking for help at her front door.
Las Vegas police asked Friday for the public's help in finding the suspect, Glenn Scruggs, 44, who police say has a long criminal history.
A man robbed and beat the 69-year-old woman and her daughter in their home near Fremont and 11th streets about 8:50 p.m. Tuesday night.
Police Lt. Clint Nichols said the victim's daughter earlier Tuesday saw the man at a grocery store on Fremont and recognized him as an acquaintance.
A few minutes after the woman returned home, Nichols said, the suspect knocked on the door and asked to use the phone. After the women let him in, he used the phone and then asked for money. When he was denied, he began searching the home and became violent, police said.
He attacked the woman's daughter and tried to take her jewelry, then attacked the woman and fled, police said.
The elder woman, who police would not identify, suffered facial fractures. She was still in the hospital Friday. Her daughter, whose age and identity were not released by police, did not require medical attention.
Scruggs' criminal history in Las Vegas begins with a fourth-degree arson conviction in 1985 and includes several other convictions ranging from robbery and grand larceny to drug charges and attempted murder, police said.
"I don't want him running around on the streets this weekend," Nichols said.
The incident mirrors the Oct. 14 attack on 65-year-old Constance King, who was beaten by a man who came to her door requesting help finding a missing puppy. The man, who police identified as 20-year-old Daniel Ruiz, pushed his way into her home near Smoke Ranch Road and Buffalo Drive.
King was punched in the head, face, arms and chest before the man stole her car.
"I'm praying this is not a trend," Nichols said of the two incidents. "We don't see a lot of this."
Ruiz was arrested with help from numerous callers who identified him from a police sketch.
Nichols is hoping for similar success in finding Scruggs.
Scruggs, who is known to frequent the downtown area, is black, 5 feet 11 inches, about 180 pounds and has tattoos of "G-Boy," his nickname, as well as "Gayola" and "Lil Glen."
Anyone with information is urged to call the Police Department's Robbery Section at 828-3591 or Crime Stoppers at 385-5555.
Contact reporter Maggie Lillis at mlillis@reviewjournal.com or 702-383-0279.