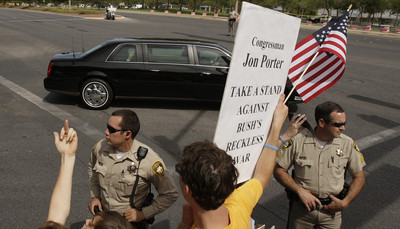 A young girl who was seen being sexually assaulted in a homemade videotape was found safe in Las Vegas with her mother Friday, and a fugitive who knew the child's family was named a suspect in the case, authorities said.
Investigators learned of the girl's identity from a tipster who called the Nye County sheriff's office on Friday, said Nye County Detective David Boruchowitz at a news conference in Pahrump.
The tipster recognized the child after authorities released her first name to the media.
Earlier in the week, Nye County officials had released to the media images of the girl and her adult male assailant taken from the videotape of the sexual assault.
Authorities said that assault occurred in Las Vegas, where the girl lives with her mother.
"She is a very happy 7-year-old girl," Boruchowitz said of the child who was 3 at the time the video was made.
Nye County Sheriff Tony DeMeo added, "She is safe, she is OK. The mother is cooperating with us."
Because the assault is alleged to have occurred in Las Vegas, the Metropolitan Police Department will take over the investigation.
Authorities named Chester "Chet" Arthur Stiles, 34, as a suspect in the case. They said investigators believe Stiles is the man seen molesting the child on the video.
The girl's mother identified Stiles as a family friend, Boruchowitz said.
Stiles has lived in Pahrump, but his most recent address was in Las Vegas and he was last seen in Las Vegas two weeks ago, Boruchowitz said. DeMeo urged Stiles to turn himself in.
"Police have a long arm and a long memory," DeMeo said, adding Stiles "will not be forgotten."
MONDAY
Police see jump in violent crime
Fueled by spikes in robberies and aggravated assaults, violent crime last year jumped more than 32 percent in Las Vegas and unincorporated Clark County, according to FBI statistics.
Henderson and North Las Vegas police saw their own violent crime rate surges of 15 percent and 12 percent, respectively. The numbers dwarf the national average of a 1 percent climb in the violent crime rate per 100,000 residents.
"All of the law enforcement agencies in the valley have seen the methamphetamine problem drive robberies, aggravated assaults, car burglaries and thefts," Henderson police spokesman Keith Paul said.
TUESDAY
Lawsuit challenges tax petition effort
A group led by state AFL-CIO leader Danny Thompson filed a lawsuit challenging the constitutionality of former Assemblywoman Sharron Angle's latest petition to limit property taxes.
Thompson, representing the union-backed Nevadans for Nevada political action committee, said Angle's Proposition 13-style petition violates the "uniform and equal" tax provision in the state constitution because it would lead to neighbors with similar homes being sent widely differing property tax bills. Angle began circulating the petition last week.
WEDNESDAY
Acquisition done after several delays
Gaming equipment provider Shuffle Master completed its thrice-delayed acquisition of Progressive Gaming International's table games division.
But the two Las Vegas-based companies differed on the value of the deal.
Shuffle Master said the entire price of the transaction will be $30 million. Progressive Gaming said in a separate statement that an analysis of the deal was that it would receive between $37.4 million and $46.5 million.
THURSDAY
Bus plan puts parking at risk
The Las Vegas Traffic and Parking Commission recommended removing on-street parking on Third Street from Imperial Avenue to Charleston Boulevard, and on Casino Center from Charleston to Ogden Avenue.
That's where the northbound leg of the Downtown Connector Rapid Bus Transit route will be, and the buses will run in two dedicated lanes in the middle of the road. That would leave one lane in each direction for vehicles, and no room for parking.
"I support the bus line," said Mayor Pro Tem Gary Reese of Ward 1, where most of the disappearing parking is. "I think we need to have that rapid transit. But at what expense?"
FRIDAY
Death puts focus on amoeba threat
The death of an Arizona boy infected by an amoeba after swimming at Lake Havasu caught the attention of officials responsible for Lake Mead, Lake Mohave and Nevada's hot springs.
They want to know whether those bodies of water also harbor the microscopic killer Naegleria fowleri, which enters the body through the nostrils and eats away brain tissue.
They also want to know how much of a risk the microbe might pose to the thousands of Jet Skiers and swimmers who recreate in those waters each year.
COMPILED BY MICHAEL SQUIRES
READ THE FULL STORIES ONLINE AT
www.reviewjournal.com/wir
Week In ReviewMore Information