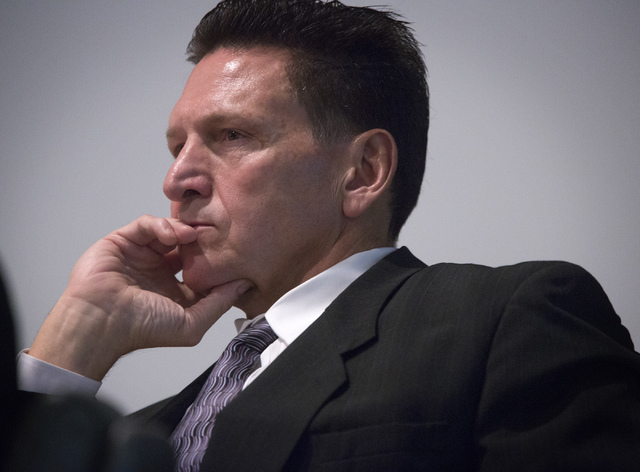 Family Court Judge Steven Jones has filed notice that he is appealing to the Nevada Supreme Court his three-month suspension without pay over misconduct stemming from his relationship with a late prosecutor who appeared before him.
Jones, who has been receiving his $200,000 salary while under another suspension, mailed the notice Tuesday to the Nevada Commission on Judicial Discipline, which last week ordered the suspension without pay. He prepared and signed notice himself.
The Supreme Court could issue an order holding up the latest suspension until it makes a decision.
The prosecutor, Lisa Willardson, was found dead in her Henderson home on Dec. 26, the same day the commission made public findings that Jones had violated professional rules of conduct.
In ordering the new suspension, the judicial commission said the judge's relationship with Willardson "caused the disruption of the entire judicial system" and the "unnecessary waste of taxpayers' money and judicial resources."
Jones, first elected to the bench in 1992, dropped his re-election campaign as the commission considered his punishment. His term is up at the end of December.
The commission found that prosecutors proved three counts that were tied directly to the judge's affair with Willardson between October and December 2011.
Two of the counts alleged Jones improperly maintained the relationship while Willardson litigated child welfare cases before him and then did not disqualify himself from the cases. He issued a ruling in her favor in December 2011, long after they had begun to date.
The other count accused Jones of interfering with the decision of former Clark County District Attorney David Roger to remove Willardson from a child welfare unit that prosecuted cases in the judge's courtroom.
The commission suspended Jones with pay in November 2012 following his federal indictment with five other defendants in what authorities alleged was a $3 million investment fraud scheme.
The indictment alleges Jones used the power of his Family Court office to carry out the decade-long scheme between 2002 and 2012. The trial is set for March 4, but a federal judge is considering delaying it until June.