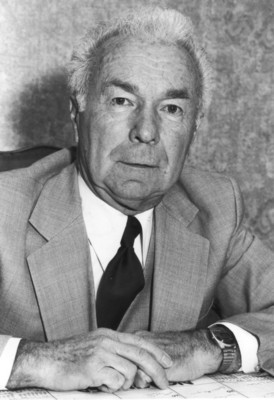 CARSON CITY — William "Bill" Swackhamer, a leader in the Nevada Legislature during four decades who also served 14 years as secretary of state, died Thursday in Idaho. He was 93.
Swackhamer was a businessman from Battle Mountain who first won election to the Assembly as a Democrat in 1946. He served the next 26 years in the Assembly until he was defeated in 1972 when redistricting forced him to run against another lawmaker from Winnemucca.
He was appointed by the late Gov. Mike O'Callaghan in 1973 to serve as secretary of state, replacing John Koontz who retired. Swackhamer served in that office until 1987.
He later went to live with family in Idaho, where he died Thursday after suffering a stroke earlier in the week.
Carson City Clerk Alan Glover, who served as Swackhamer's intern in the 1971 legislative session, said he did not know the lawmaker when he was first assigned to him while in college.
"I found out he was one of the most powerful men in the Legislature," Glover said. "He also had a great sense of humor."
Swackhamer was involved in some of the most momentous events in recent Nevada history, including the creation of the state Gaming Control Board in the 1950s, Glover said.
Swackhamer served as speaker for two regular Assembly sessions in 1957 and 1965 and in three special sessions. He was majority floor leader in the regular 1967 session and in the 1968 special session.
"Nevada has lost one of its great public servants with the passing of Bill Swackhamer. During his tenure in the Nevada Legislature, he was a true statesman and served with the utmost dignity and respect for the process, as well as the people he served, Gov. Jim Gibbons said.
Glover said Swackhamer stayed in touch with the goings-on in Nevada during his Idaho residency, occasionally calling to ask him about some news item or other out of the capital.
He was born in Winnemucca on Aug. 18, 1914, to Edward O. and Mary D. Swackhamer. His parents were residents of a mining camp in northern Lander County.
He attended school in Battle Mountain and joined his father in the family mercantile business, E.O. Swackhamer and Sons, after graduating from school in 1931.
In 1943 he enlisted in the Army Air Corps where he was trained in radar navigation. He served in a heavy bomb group in Italy. After discharge in 1946, he returned to Battle Mountain to work in the family business with his brothers.
In 1949 he married Joyce M. Backes and helped raise her children, Rebecca and Lloyd.
Following the end of his career in public service, the Swackhamers remained in Carson City and traveled extensively. He enjoyed sharing his knowledge of Nevada history and politics, and he enjoyed baseball.
Following the death of his wife, he moved to Meridian, Idaho to live with his daughter.
He is survived by children Rebecca Tucker of Meridian and Lloyd Backes of Bushnell, Neb.; sister Leah Chiara of Carson City; four grandchildren and six great grandchildren.
Interment will be in Battle Mountain at a later date.