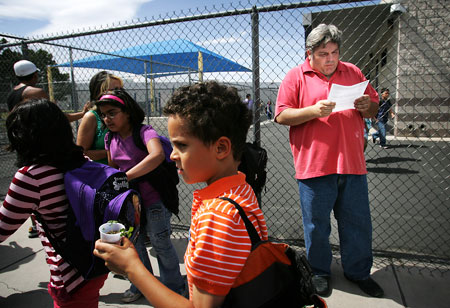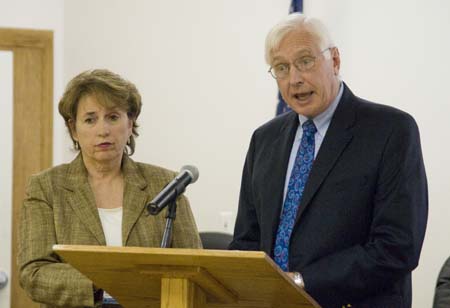 When Vinnie Cervoni went to pick up his 6-year-old son, Giovanni, from Marion Earl Elementary School on Wednesday, he wasn't sure whether he would take him back to school today.
Cervoni said a confirmed outbreak of swine flu there might cause him to keep his son home as a precaution.
Cervoni said he and his family were "going to talk it over."
Nearly 200 children were absent from Earl on Wednesday, a day when public health and school officials said at a news conference there was no need to close the year-round school despite the fact that sample tests of six sick children determined four of them had swine flu.
The other two tests were negative for influenza.
John Middaugh, director of community health for the Southern Nevada Health District, said there is no need to close Earl Elementary because scientists have found that the H1N1 influenza A, or swine flu virus, has been found to be no more serious than the seasonal flu.
"We don't close schools for the seasonal flu," Middaugh said following the news conference.
Cervoni said he dropped off hand sanitizer and cleaning wipes at his son's first-grade classroom at 6650 W. Reno Ave., near Jones Boulevard and Tropicana Avenue.
He was pleased to learn his son's teacher already had did an "excellent job of wiping down the classroom."
The sample testing of sick students by health district officials was done Tuesday, after more than 150 children students stayed home, to determine the cause of the absenteeism.
Middaugh noted that local officials were following Centers for Disease Control and Prevention guidelines that were revised in May. Those guidelines state, in part, that closing a school "is not advised unless there is a magnitude of faculty or student absenteeism that interferes with the school's ability to function."
Diana Taylor, the Clark County School District's health services director, said the school, which has an enrollment of 614, is still able to function adequately.
At the news conference, Taylor would not say how many students or teachers would have to be absent to cause a school to shut down.
Middaugh, whose previous work in public health was in Alaska, said schools remained open there during one period when 70 percent of the students became ill.
In late April, the Centers for Disease Control and Prevention advised officials to close schools for up to two weeks if students were infected with swine flu, advice seconded by President Barack Obama in a televised plea.
Middaugh conceded that those earlier warnings could cause some parents to be concerned about sending their children to a school where swine flu has been detected.
But Middaugh said the earlier guidelines were an outgrowth of erroneous reports from Mexico that indicated that many previously healthy young people died of a virus that spread rapidly through communities.
Once American public health investigators went to Mexico, he said, they found that reports of the disease's severity and spread were exaggerated.
That new information, coupled with the fact that swine flu has spread into communities throughout the United States, has made school closures largely ineffective in controlling the virus, Middaugh said.
"They closed schools in New York City, and it didn't control it," he said. "There is no public health reason to close schools. That's why the guidelines for closing schools has changed."
Dr. Mary Guinan, the state's chief health officer, recently told the Review-Journal that school closures "should be based on science, not fear."
Earl Elementary parent Ernest Danhieux is a construction foreman who has been out of work for nine months. Because he is busy looking for a job, Danhieux said he does not have the luxury of keeping his 8-year-old son home as a health precaution.
"He's better off here," he said. "He hasn't shown any of the symptoms."
Danhieux suggested the school take 10 minutes to teach students about washing their hands and covering their mouths when they cough.
"When we were in the second and third grade, we didn't care about stuff like that," he said.
Earl administrators sent home a note with children assuring families they were monitoring the situation.
The letter noted that testing is not necessary for the readmission of children to school or day cares. It also said "patients should manage their illness as they would seasonal influenza."
Health district officials anticipate additional cases of swine flu at schools. They recently changed the district's protocol in monitoring the disease.
Before, the district counted all cases of swine flu, but now it is only counting those cases in which a patient has been hospitalized.
The mildness of the illness caused that change.
All schools in the district continue to monitor student health office visits and symptoms of influenza.
Parents, students and staff are encouraged to check for updates at www.ccsd.net and www.southernnevadahealthdistrict.org. Parents also can contact the district's Health Services Department at 799-7443.
Contact reporter Paul Harasim at pharasim@reviewjournal.com or 702-387-2908. Contact reporter James Haug at jhaug@reviewjournal.com or 702-374-7917.