Symposium sounds Alzheimer's alarm
November 1, 2009 - 10:00 pm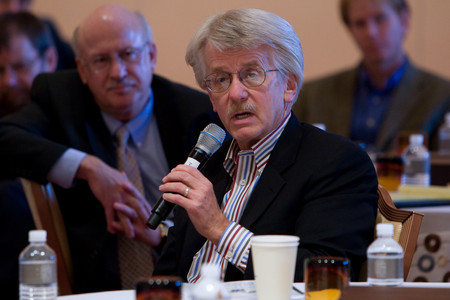 Terrified older men and women running naked in the streets, unaware of where they are, of who they are.
While it may seem far-fetched, that doomsday scenario was discussed in Las Vegas last week at the Leon Thal Symposium on "The Prevention of Dementia."
International researchers on that condition and Alzheimer's disease were brought together Tuesday and Wednesday at Encore at Wynn Las Vegas by the Keep Memory Alive Foundation and the Cleveland Clinic Lou Ruvo Center for Brain Health of Southern Nevada. The scientists stressed the need for a global sense of urgency in finding cures and treatments for conditions that cause progressive brain cell degeneration and lead to memory loss and behavioral changes.
"We can't wait 20 years to do the kinds of tests they do for cardiovascular disease relating to cholesterol and heart disease," said Dr. Ron Petersen, director of the Alzheimer's Disease Research Center at the Mayo Clinic College of Medicine in Minnesota.
"With the demographics of the world and the country — our baby boomers — we have to accelerate our research," said Petersen, who treated former President Ronald Reagan for Alzheimer's disease.
In the near future, public institutions won't have enough room to handle Alzheimer's patients, Petersen said. He said their health care costs are nearly triple those without the condition, because their cognitive disorders make them incapable of handling medications for ailments ranging from simple high blood pressure to diabetes.
Given the fact that 77 million baby boomers in the United States are heading into retirement — age is unquestionably a risk factor for Alzheimer's — researchers predict close to 16 million Americans will be affected by 2050, or about double the number with the disease today.
The cost for institutionalization can range from $30,000 to $100,000 a year, which most families can't afford, forcing state and federal governments to pick up the tab.
Petersen said it is unlikely that our society would ever allow Alzheimer's patients to go homeless, but he noted that did happen to other types of mental patients when many mental hospitals were closed in the 1980s. Those patients wound up homeless on U.S. streets instead of receiving the treatment they needed, he said.
Dr. Randolph Schiffer, director of the Cleveland Clinic Lou Ruvo Center for Brain Health in Las Vegas, said he is confident that political leaders will ensure that the necessary funding will be available for research and treatment centers.
Schiffer said research is zeroing in on early detection for those who may have an elevated risk for the disease, making a cure more likely. Every major pharmaceutical firm, he noted, now has drugs targeting Alzheimer's in various stages of study.
At the Lou Ruvo Center for Brain Health, Schiffer said interventions will also be studied where no drugs are used.
"We want to see the benefits of cognitive and physical exercises," he said.
Research has indicated that creative use of cognitive function along with an active lifestyle can play a role in fighting off Alzheimer's.
Zaven Khachaturian, former president of the Lou Ruvo Brain Center and current president of Prevent Alzheimer's Disease 2020 Inc., said it is important that Americans deal with the challenge of finding a cure for Alzheimer's just as "they did putting a man on the moon."
"We must identify a goal and go toward it," he said, adding that researchers are doing just that.
He said researchers at the conference, which was followed Friday and Saturday by a "Clinical Trials on Alzheimer's Disease" meeting, believe they must design a study to validate biomarkers in people so those most at risk for developing Alzheimer's can be identified.
"We have very exciting findings for markers, and we must continue to move forward very quickly for a cure," he said.
But to move forward quickly, Petersen said, there must be a greater contribution of government dollars.
"The funding for research at the federal level has been going south just when we need to step it up," Petersen said.
Researchers with the national Alzheimer's Association believe that unless efforts are expanded "to handle the Alzheimer's crisis we might bankrupt the health care system."
Schiffer said the annual Leon Thal Symposium, held in Las Vegas in honor of a renowned researcher who died two years ago in a plane crash, is important to researchers around the world.
"We're all trying to catch up on this disease. Thirty-five years ago the disease was poorly understood, and now we're already postponing the onset of real disability. We have to keep this feeling of urgency."
Contact reporter Paul Harasim at pharasim@reviewjournal.com or 702-387-2908.