Tale of doctor, dancer recounted
August 17, 2009 - 9:00 pm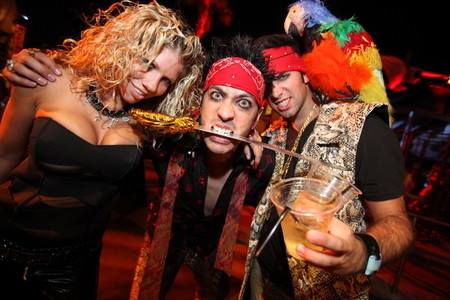 Dr. Conrad Murray took his stripper girlfriend to meet Michael Jackson in Las Vegas two years ago.
The woman, Nicole Alvarez, bore Murray's seventh child earlier this year, their first, according to a former Las Vegas resident who said Alvarez worked at two strip clubs here.
Aspiring actor and author Ben Harris Jr., who said he attended Las Vegas Academy for three years, said Murray met Alvarez at the Crazy Horse Too in December 2005.
Harris said Alvarez had been fired at Spearmint Rhino strip club, where she had paired up with another stripper to form a tandem act called "Fire and Ice."
Harris said that after Alvarez was fired over a dispute, he drove her to Las Vegas the week she met Murray.
"I was with her that night. She showed me a $3,500 check that was written out to her," Harris said. "She said, 'I hit the jackpot.' She thought this was going to be her big break."
Murray set up Alvarez in suites at the Luxor and Mandalay Bay while she was working weekends.
Murray, who had a medical practice in Las Vegas before joining Jackson as his personal physician in June, is under investigation in connection with Jackson's June 25 death.
Harris, who enrolled at Las Vegas Academy in 1998, said he moved to Los Angeles to pursue an acting career and met Alvarez in the spring of 2004 on the set of a commercial.
Harris, 26, said he has telephone records that would prove his relationship with Alvarez, 27, a native of Puerto Rico. "We talked for hours at a time," he said, adding the last time he saw her was last year.
A book he has been working on includes their "weird friendship," he said. Harris finished the manuscript several months before Jackson died. His e-mail address is benharrisjr @yahoo.com.
THE SCENE AND HEARD
Joe Jackson said Sunday that his son will be buried on Aug. 29, on what would have been his 51st birthday, at Forest Lawn Memorial Park in Los Angeles. The father said he will be in Las Vegas that night to attend "Las Vegas Celebrates the Music of Michael Jackson" at the Palms and be present for a celebrity star presentation at Brenden Theatres and a special screening of "Moonwalker." His comments came during a lunch with the organizers of the events, Erich Bergen of "Jersey Boys" and Steve Friess of the Web site vegashappenshere.com.
SIGHTINGS
Donny Osmond, spotted Sunday on a flight to New York City. He told someone to watch ABC's "Good Morning America" today. Connect the dots: "Dancing With the Stars" is being announced today. … At the Rehab pool party Sunday at Hard Rock Hotel: U.S. swimming standouts Cullen Jones, Ricky Berens, Scott Spann, Ed Moses and Ryan Lochte. Between them, they have accumulated 27 world records and 13 Olympic medals. … "America's Got Talent" judge Piers Morgan, catching up with old friends Bruce Willis and Planet Hollywood founder Robert Earl at Strip House in the Planet Hollywood Resort on Saturday. … Rumer Willis, celebrating her 21st birthday at Tao on Saturday. Her group included parents Demi Moore, Bruce Willis, stepfather Ashton Kutcher, Bruce Willis' wife, Emma Heming, Rumer's sisters, Tallulah and Scout, Rumer's boyfriend, Micah Alberti, and her co-stars in her upcoming film, "Sorority Row," including Audrina Patridge — with her boyfriend, Corey Bohan — Briana Evigan, Margo Harshman and Jamie Chung. Later, Ashton and Demi went to a high-limit salon at Planet Hollywood Resort. … At Midsummer Night's Dream: A Pirate's Guilty Pleasure on Saturday night at the Palms pool and bungalows: Benji Madden, X Games and professional skateboarder James Brown, and comedian and actor Pauly Shore. … Scott Disick, drinking margaritas at Tao Beach (The Venetian) on Saturday. He was identified last week as the father-to-be of the baby expected by reality star Kourtney Kardashian, who co-hosted at Wet Republic in the MGM Grand on Sunday with sister Khloe.
THE PUNCH LINE
"Russian Prime Minister Vladimir Putin took a submarine to the bottom of Lake Baikal, the world's deepest lake. He got to see some rare exotic fish and his past political opponents." — Jimmy Fallon
Norm Clarke can be reached at 383-0244 or norm@reviewjournal.com. Find additional sightings and more online at www.normclarke.com.
View the party slide show