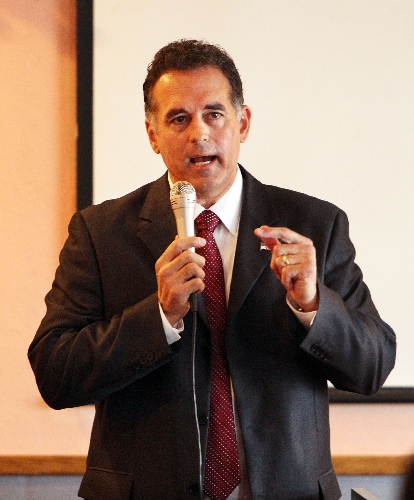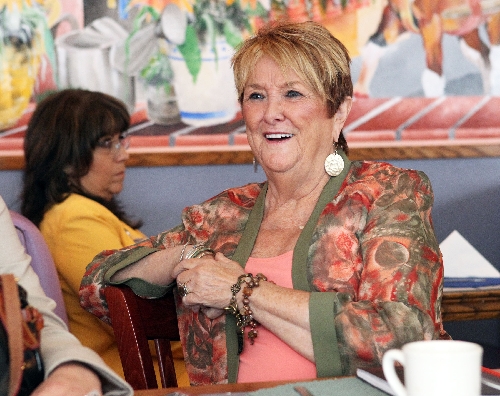 Republican congressional candidate Danny Tarkanian on Wednesday accused President Barack Obama of using immigration and Hispanics as a "political tool" to win re-election by changing his deportation policy just months before voters go to the polls.
Speaking at a Hispanics in Politics breakfast of activists, Tarkanian faulted Obama for promising comprehensive immigration reform when he took office and failing to deliver.
"Why wasn't it passed?" Tarkanian asked. "Maybe it wasn't passed because … they want to use this as a political tool. … They're using it as a tool to get votes back in Washington."
Tarkanian faced a round of hostile questions after his remarks from Latinos who said Republicans are the ones who blocked immigration reform in Congress to deal with 11 million immigrants who are in the United States illegally. The critics said the GOP leaders also opposed the DREAM Act, which would provide a path to citizenship for young adults who were brought to this country as children and have grown up and lived here for years. The undocumented immigrants would have to attend college or join the military to qualify for the program.
Obama last month announced his administration would offer the young DREAM Act immigrants two-year work permits and not deport them as a temporary measure until the law could be changed. The move caused already strong Hispanic support for Obama to rise in recent polls, giving him a 3-to-1 advantage over the GOP.
Tarkanian has said he opposed the DREAM Act, although on Wednesday he said he believes military service should qualify immigrants for U.S. citizenship.
Hispanic activist Michael Flores asked Tarkanian whether he agreed with Obama's executive action to defer deportation for young undocumented immigrants.
"I certainly don't agree with it because it wasn't passed in Congress," Tarkanian replied.
Flores said it wasn't that easy to pass laws in Congress. In a testy exchange, Tarkanian challenged that idea, saying Democrats controlled the House and Senate when Obama took office and the president didn't make immigration a priority. Instead, Tarkanian accused Obama of spending all his time working to pass health care reform, which he said hurt businesses and job growth.
"Why did he wait until just before the election to do this political stunt?" Tarkanian asked. Obama "is just using this as a political football."
Pressed on whether he would support the DREAM Act, Tarkanian said he likes parts of it for military members "who put their lives on the line for our country." But he wouldn't address other aspects of the proposal, including for students.
"I say go through Congress and do it the right way," Tarkanian said after complaining the activist were trying "to nail me down and make me say something I don't agree with."
Tarkanian ended his 30-minute appearance before the group of 40 attendees by thanking them for the "civil discourse," although he probably didn't win any new friends with his frank talk. He did get applause when someone thanked him for appearing before the nonpartisan group, knowing his hard-line positions on immigration would not be welcome by most of the Hispanic activists.
The audience included Republican supporters of Tarkanian, who stayed largely silent, and Hispanic outreach workers for Mitt Romney's GOP presidential campaign.
In his speech before taking questions, Tarkanian did propose some immigration reforms, such as decreasing red tape so operations such as a Yerington onion farm could import more guest workers to do labor that many Americans refuse to do.
"Why don't we make it easier for people to come into this country legally?" Tarkanian asked.
Flores said he was disappointed by Tarkanian's standard GOP "talking points" on immigration.
"I didn't feel like it was a genuine conversation," Flores said. "He's not in touch with what's going on in our community at all."
Asked whether Flores was pleased Tarkanian backs some immigration reform, he said: "You can't pick and choose what you want to fix. That's the problem. He just got my blood boiling."
Tarkanian is running for the new 4th Congressional District, which includes urban North Las Vegas in Clark County and all or part of six rural counties.
His Democratic Party opponent, state Senate Majority Leader Steven Horsford, is scheduled to appear before the Hispanics in Politics group on Aug. 1.
Horsford, an early Obama backer, supports the president's immigration policies and has advocated for the DREAM Act.
Nevada has a sizable Hispanic population, about 26 percent of overall residents. Latinos made up 15 percent of the electorate in the past two elections in 2010 and 2008 and were key in delivering Obama a big victory here four years ago.
Contact reporter Laura Myers at lmyers@reviewjournal. com or 702-387-2919. Follow her on Twitter @lmyerslvrj.