Tarkanian challenges Lowden in Reno
April 23, 2010 - 11:00 pm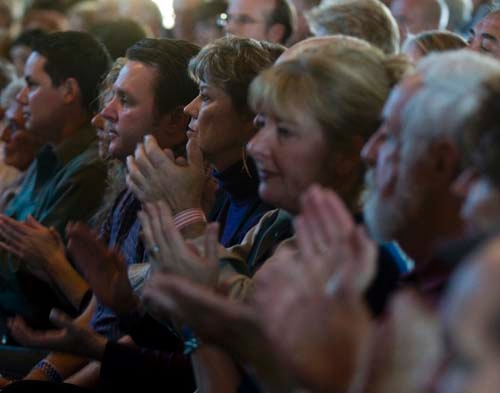 RENO — Twenty-five minutes into the first U.S. Senate debate Friday night, Danny Tarkanian went on the attack against GOP front-runner Sue Lowden, accusing her of voting for "pork" projects as a state senator and driving up spending.
"There's a big difference in this race between myself and Senator Lowden," Tarkanian said in the forum where six GOP contenders on the stage mostly agreed and the only tension was between the two Republicans leading the polls. "Her record is replete with pork projects."
Lowden, a tight smile on her face, dismissed Tarkanian's attempts to raise her ire and questioned whether what he said was accurate.
"I don't know what he's talking about," Lowden said, addressing an audience of more than 300 people.
Tarkanian also went after Lowden directly a second time, saying she has said she wants to make sure Nevada brings home more federal money than it does now, about 65 cents on the dollar. Instead, Tarkanian said he would cut federal spending for all states in order to level the playing field so no state gets more than its fair share.
Lowden said she was "flattered" Tarkanian called her "senator" — "thank you for remembering," she said — but that she was right to fight for more money from the federal government for Nevada.
"The reality is we do not get our fair share of what we put into Washington," Lowden said. "I would have a junkyard dog on my staff and make sure that every dollar we send to Washington comes back to Nevada."
The two dust-ups between Tarkanian and Lowden came during a debate sponsored by Action is Brewing, a Tea Party movement group that invited the top "conservative" Republicans in the Senate primary to the event where bloggers and Sam Shad of the TV program "Nevada Newsmakers" asked questions.
The debate went overtime, lasting nearly two hours. Besides Lowden and Tarkanian, the event included former Reno Assemblywoman Sharron Angle, Las Vegas Assemblyman Chad Christensen, investment banker John Chachas and Bill Parson, a former Marine.
Tarkanian, who has been struggling to make a comeback six weeks before the June 8 primary, clearly planned the "pork project" hit against Lowden. Right after his remarks and as the debate continued, his campaign shot out an e-mail pointing to two times Lowden voted for spending bills that included little or no debate after being loaded with new projects.
In 1993, for example, Lowden voted for a capital improvement program worth more than $50 million, including mostly university and school projects, but there was no debate on the new funding, according to the Tarkanian campaign.
Tarkanian also pointed to a bill Lowden voted for in 1995 that included extra spending with no debate for local governments, including for transportation, child care, a fairground and a livestock show.
Lowden's campaign responded by saying those were normal spending bills and that the candidate never said she opposed every add-on project.
On stage, Lowden noted that in 1995 she went against GOP leaders and was only one of four votes against the end-of-session omnibus spending bill because it contained too many pork projects.
"I'm on the record when I was a state senator as voting against pork," she said. "I defied my own party voting against the bill because it was pork filled."
The crowd inside The Grove at South Creek events center was largely conservative and friendly, delivering applause lines when any candidate talked about reducing federal spending and U.S. government intrusion into people's lives, including health care.
What didn't come up in the debate were Lowden's recent comments that people could barter with their doctors to get cheaper health care.
The Democratic Party and U.S. Sen. Harry Reid's campaign have made fun of her comments, suggesting she's out of touch because she talked about how in the old days people used to barter with chickens.
Lowden made only a sly reference to the matter that has become fodder for late-night comedians.
"I've become an expert in health care in case you didn't know," she said when the candidates were asked whether they would repeal the health care legislation Reid helped pass.
All the contenders said they would work to repeal the law or try to cut funding until it could be changed.
"It's gotta happen right away before it bankrupts and cripples the state of Nevada," said Christensen who noted it could cost the state $600 million.
Chachas said Republicans have a duty to bring alternative ideas that put consumers in charge of health care spending instead of insurance companies.
"We have a duty not to just say no," Chachas said.
During the debate, Angle and Parson portrayed themselves as the most conservative, saying that the government must be guided by the U.S. Constitution. They also argued strongest for state's rights and said the federal government shouldn't be involved in education.
Angle also kept touting her string of "no" votes against taxes as a lawmaker.
"You don't have to read my lips. Read my record," she said, drawing applause.
Chachas said as a businessman he would be able to fix the economy and would understand more than most.
"I think what government needs to do is get out of the way," Chachas said.
Christensen touted his winning record and the fact that he was the only current public office holder.
Tarkanian held himself up as the outsider, non-establishment candidate who would cut down the federal government role.
"The government should get off our backs and out of our wallets," Tarkanian said.
And Lowden held up her experience as both a legislator and a businesswoman who has run casinos with her husband.
Lowden also drew the biggest laugh when she said that if Reid spends $25 million as planned in his campaign to keep his seat, "It'll be the biggest stimulus he's ever given to the state of Nevada."
After the debate, Carole Fineberg of Reno said she liked Angle the best because "she will keep her promises."
Bill Holland of Reno said, "Chachas was the best. He understands business."
Outside the debate, the parking lot was political theater.
The Democratic Party sent a man dressed in a chicken suit to greet people at the entrance, carrying a sign, saying, "DON'T BARTER ME." Several pro-Reid supporters joined him.
Six Lowden supporters set up a counter-protest, carrying a sign that said: "Harry won't do. Vote Sue."
Contact reporter Laura Myers at lmyers@review journal.com or 702-387-2919.
View the slideshow