Tax hike needed for More Cops or copters?
August 14, 2013 - 5:10 am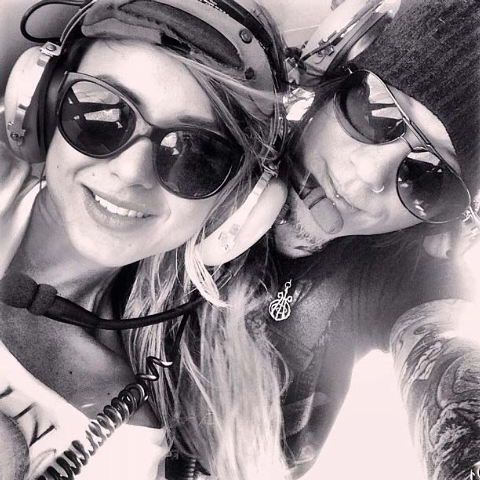 First, I suppose congratulations are in order for Guns N' Roses guitarist DJ Ashba and his fiancée after he recently proposed marriage during a private tour of the Las Vegas Valley courtesy of a Metro helicopter.
With that out of the way, it shouldn't be too much to ask that the guitar hero or the politically tone-deaf cops who facilitated the couple's flight be compelled to pay for its cost.
The Review-Journal reported the incident earlier this week, and the department has opened an internal investigation ­— which should be wrapped up pretty quickly considering Ashba identified Capt. Dave O'Leary as his Metro maitre d'.
Meanwhile, Sheriff Doug Gillespie continues to work to persuade the Clark County Commission to increase the local sales tax rate to pay for more officers.
I'm guessing the rocker's police helicopter tour is causing Gillespie to bang his head right about now.
HAPPY CAMPERS: When a wildfire in California forced the cancellation of their summer camp plans, it appeared some special kids from Southern Nevada were out of luck.
But thanks to a little creativity, they had a memorable overnight campout recently in upper Kyle Canyon.
The teens, challenged by cancer and rare genetic diseases, were given a mini-camp in the front yard of longtime Old Town residents Jean Perry-Jones and her husband, Alan Bernhard, complete with a catered cookout, arts and crafts, tent accommodations and a visit from Nevada Department of Forestry firefighters. The youngsters are treated at the Children's Specialty Center, which is affiliated with the Cure 4 the Kids Foundation. The event was co-sponsored by Wyndham Consumer Finance employees.
"When the camp was canceled this summer, we all wanted to do something," Wyndham's Donna Lauger says.
So the foundation's development director Dawn Marie Pavuk called her dad, Bernhard, and the minicamp plan grew from there.
"We knew that we needed to do something," foundation President Annette Logan says. "We didn't have it in our hearts to disappoint them."
GREEN IDEAS: Former climate change denier Bob Inglis paid a high price for changing his views on global warming. After a dozen years in Congress, the conservative Republican from South Carolina lost his House seat after a primary challenge.
Inglis, a scheduled speaker in Tuesday's Clean Energy Summit 6.0 at the Mandalay Bay, is now executive director of the Energy and Enterprise Initiative at George Mason University.
The group promotes the implementation of a revenue-neutral carbon emissions tax to battle climate change, and Inglis knows it will take a change in public opinion to force Congress to act on the issue.
"The reality is politicians don't lead, they follow," Inglis said in an interview this week with Dave Becker on "KNPR's State of Nevada." "And so what it takes is people in their constituencies saying, 'You know what? This makes sense. Why are we taxing income when we could be taxing pollution?' "
CROWNING KING: Longtime fight promoter Don King's recent induction into the Nevada Boxing Hall of Fame briefly rekindled criticism of the former Cleveland street guy, who served time in prison for manslaughter.
A few letter writers even argue that King, ringmaster of some of the biggest fights in Las Vegas history, shouldn't have been included in the hall. Oh, please.
It's hard to imagine a guy with a rap sheet getting the cold shoulder in the fight racket. That's like Santa Claus getting shunned by his elves.
You know, if Kris Kringle had once been a numbers runner who beat a man to death.
ON THE BOULEVARD: Macau's casinos are required to be 50 percent nonsmoking, and it doesn't appear to have hurt business in the Asian gambling center. Don't hold your breath waiting for such common sense for Las Vegas casinos. … Beasley Broadcast Group executive Tom Humm, one of local media's truly good fellows, celebrates his 35th year in the radio business with a Nevada Broadcasters Association Lifetime Achievement Award on Saturday at the Red Rock Resort at the group's annual Hall of Fame dinner.
Have an item for Bard of the Boulevard? Email comments and contributions to jsmith@reviewjournal.com or call (702) 383-0295.