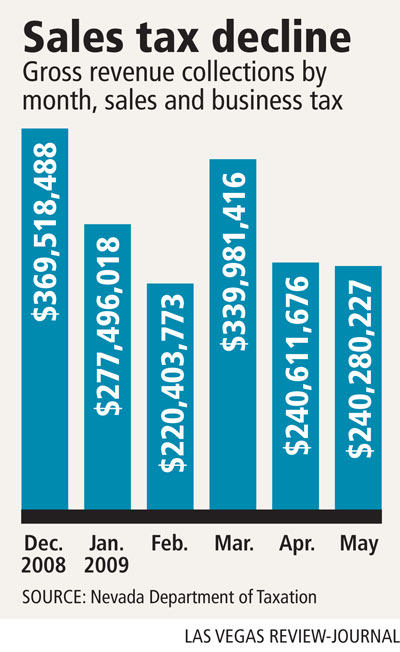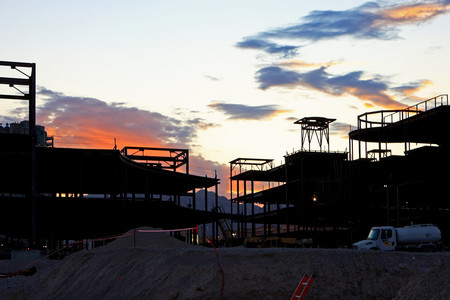 Nevada's taxable sales took their worst nose dive in recent memory in May, continuing an extended skid that could affect indicators ranging from joblessness to state budgets.
Taxable sales, which measure purchases of tangible goods, tumbled 21.1 percent statewide, dropping from $4 billion to $3.2 billion year-over-year in May.
Clark County's businesses sold $2.4 billion worth of goods in May, down 21.9 percent from $3 billion in May 2008.
Brian Gordon, a principal in local research firm Applied Analysis, called the numbers "abysmal."
"It demonstrates the challenges the market is facing, the challenges Nevada's residents are dealing with and the output of a tough economic climate," Gordon said.
May brought the seventh straight month of double-digit declines in statewide taxable sales, which yield tax collections that fund prisons and schools, among other services.
Sales have faltered every month for more than two years; but until November, the drops ranged from 4 percent to 6 percent.
Since fall, taxable sales have fallen at least 11 percent every month. February's 18.9 percent was the previous worst. Records show May's drop to be the worst since at least 1980.
The hardest-hit sectors include construction, wholesale durable goods, dealers of cars and car parts, furniture retailers and sellers of appliances and electronics. All were down at least 30 percent.
Utilities increased sales by 17.7 percent, while sightseeing transportation saw sales jump 92.6 percent. The combined category of performing arts and spectator sports posted a 4 percent sales gain.
Collections on sin taxes dropped as well, with cigarette levies coming in 1.7 percent, $1.7 million, below forecasts, and liquor-tax collections falling 4.1 percent, or $1.6 million, short of projections.
With statewide unemployment nearly doubling to 12 percent from a year ago, consumers can't spend the way they did in 2008, Gordon said. Plus, housing values continue to dip, and consumer confidence is near all-time lows.
Also, consumers have boosted their savings rate, which leaves less cash for discretionary purchases, said Keith Schwer, director of the Center for Business and Economic Research at the University of Nevada, Las Vegas.
Constrained spending could mean more pain for consumers and a bleaker state fiscal outlook in coming months.
With sales continuing their free fall, some retailers could close, Gordon said. The result? Even higher unemployment.
The slump also has budgetary implications for the state.
Collections from taxable sales fell 19.3 percent year-over-year in May, to $240.3 million. The general fund portion of sales-and-use tax collections for the first 11 months of fiscal 2009 came in 0.95 percent, $8.1 million, below projections of the Economic Forum, which forecasts tax revenue for state budgeting purposes.
The Economic Forum built the potential for major declines in sales-and-use tax collections into its May forecast, but sales have declined more quickly than the forum anticipated.
Its projections called for an 11.4 percent drop in collections for fiscal 2009, which ran from July 1, 2008, to June 30. With May's results in and one month left to be reported in the fiscal year, the decrease was 11.9 percent, said Russell Guindon, deputy analyst in the Fiscal Division of the Legislative Counsel Bureau. Taxable sales in June would have to decline only 6.6 percent for fiscal 2009's numbers to meet expectations, Guindon said.
The forum's forecast factored in the potential for average declines of around 16 percent a month in the last four months of the year, Guindon said. "They did expect things to be pretty bad for the remainder of fiscal 2009, but things might still be a little worse on average than they expected."
The new, higher sales tax rate isn't expected to contribute to further sales declines in the near term. The state's sales tax rose 0.35 of a percentage point on July 1 to 6.85 percent. In Clark County, the rate went up to 8.1 percent, giving Las Vegas one of the highest sales-tax rates in the country.
Gordon said his firm hasn't studied the effects of the bigger tax.
Schwer said the tax increase would pose a "marginal, very small impact," at least in coming months. Research shows it takes time for consumers to find alternatives to cutting back, Schwer said.
In the meantime, the nation's recession, which Schwer called the worst since the 1930s, will have far greater effects on taxable sales than the higher tax rate will.
The collections slump is expected to continue for the foreseeable future.
A turnaround in the numbers will require improvements in the housing and job markets, Gordon said.
Higher housing values would give consumers an important psychological lift, and lower unemployment would put more money in shoppers' pockets. Gordon said taxable sales declines could moderate later this year, once the year-over-year numbers are being compared with dismal data from November 2008 and beyond.
Even if the national economy improves, don't expect Nevada to follow immediately with improved consumer spending, Schwer said.
The recession hit Nevada especially hard: The state has led the nation in foreclosures for most of the past two years, and its unemployment rate is 2.3 percentage points above the national rate of 9.7 percent. That subpar economy should make for a recovery that lags improvements nationwide.
"This is working out as you would expect a recession to work out, but it's maybe a little difficult for people around here because we haven't seen this type of economic severity in a long, long time," Schwer said.
Contact reporter Jennifer Robison at jrobison@reviewjournal.com or 702-380-4512.