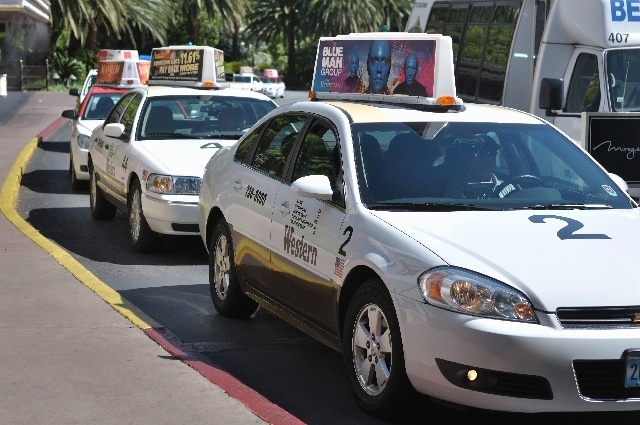 Two officers with the Nevada Taxicab Authority — Chief Investigator Ruben Aquino Jr. and Investigator Antoine "Chris" Rivers — were talking in the chief's office with the door closed in December 2012. Their conversation detailed how the taxicab authority cannot be heavy-handed in their law enforcement duties and that its day-to-day operations are overseen by taxicab owners.
Someone else listened too.
The exchange concerned another investigator, Joseph Morgan, who had heard them talking on his telephone, court records show.
Morgan and a colleague, investigator Michael Kelly, tried to bring the matter to the attention of authorities. They emailed the exchange, including an audio file of the call, to the governor's office, other state agencies, and the media in January 2013. The taxicab authority is the agency charged with regulating the industry, including investigating illegal activities.
No apparent action — publicly at least — has happened to address those concerns. Instead, Morgan — not the two investigators in the recorded conversation — is the one facing possible punishment. Morgan was indicted on Jan. 28 on two felony charges of interception of wire communication and surreptitious intrusion of privacy by listening device. The Nevada Attorney General's Office, one of the agencies that the whistle blowers contacted, filed the charges against Morgan in District Court.
"Obviously, it's an embarrassment to the chief (Aquino) and that's why my client's being retaliated against," said lawyer Robert Draskovich, who is seeking to have the charges against his client dismissed.
Aquino and the taxicab authority didn't respond to a request for comment. Deputy attorney general Jaime Resch, who is prosecuting the case, didn't return a call for comment.
Aquino and Rivers remain employed with the agency, according to their grand jury testimony, in which both said it was a private conversation.
Aquino, who oversees 26 officers, testified he was in a private meeting with Rivers on Dec. 11, 2012 when it's possible his cell phone rang and he inadvertently opened up the line while the two talked.
The call lasted 37 minutes, phone records show; and the recording was under 10 minutes. A transcript of the recording allegedly made by Morgan is also part of the court record, along with audio of the call.
"We're governed by the Department of Business and Industry," Rivers said in the conversation. "But we oversee the cab owners and certificate owners, who oversee our day to day operations."
Aquino said: "We can't go out there and be (expletive) heavy-handed," according to the transcript.
Rivers responded: "Because all the drivers can't get no employees that wanna work and make no money. We're not aggressive as Metro is, Metro is aware they are running crazy, but they have no guidance over there. I didn't even look at it like that."
Aquino added: "With Metro, you got some (expletive) running that squad. But if you have a (expletive) sergeant, or if he's absent and he lets his squad run amok, they're gonna be heavy-handed or lazy."
Asked about the transcript, Aquino testified that it was taken "out of context."
When pressed by the prosecutor if the transcript is "to any extent accurate," Aquino was vague. "I couldn't answer that 100 percent," he said.
Morgan had the recording cleaned up by a sound designer, according to testimony.
Then, Kelly and Morgan sent emails to bring attention to the issue, complete with transcripts and the recording.
Using the name "Andrew Baird," Kelly sent an email on Jan. 25, 2013, to Gov. Brian Sandoval, reporters, and state lawmakers.
Among his concerns was that Aquino talked to Rivers about a confidential internal investigation involving Morgan and investigator James Dudley.
The email also noted Rivers' comment that the cab owners, which are supposed to be regulated by the authority, oversee the agency's day-to-day operations. "How is a regulatory agency able to perform its duties without discretion if the industry it regulates is also the industry that controls the agency?" the email stated.
A similar email was sent under the name "Peter Gibbons" and was traced back to Kelly. In October, Kelly pleaded no contest to a misdemeanor count of sending an email under a false name and was fined $500.
Morgan is awaiting trial, which is set for Nov. 10.
Contact reporter Ben Botkin at bbotkin @reviewjournal.com or 702-405-9781. Follow him on Twitter @BenBotkin1.