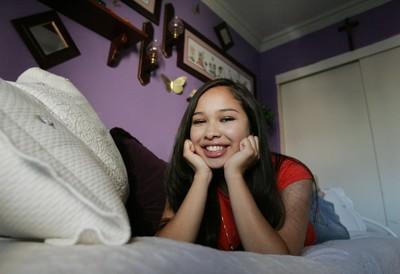 Brianda F., 16, is a U.S. citizen by birth, but she feels her patriotism is suspect in the eyes of some non-Hispanics.
A junior at a public high school in the southeast Las Vegas Valley, Brianda is not using her full last name to protect relatives, some of whom are illegal immigrants in this country.
Brianda says she respects the struggle of her elders to make a new life in this country. Her mom, Alicia F., for example, now is a naturalized citizen, but worked a number of years in the hotel industry as an illegal immigrant after leaving Mexico.
"They want us to know their past and appreciate, so we can look forward, try harder, be our best," says Brianda.
Her favorite school subject is history; she is eyeing a college major in criminal justice.
She believes her patriotism was questioned by a teacher in ninth grade on May 2, 2006, the day after a massive march and demonstration for immigration reform had taken place on the Las Vegas Strip.
Brianda admits she was talking on May 2 while students in her class were supposed to be saying the Pledge of Allegiance. But the teacher singled her out for a reprimand by saying, "So, you have time to go to your march, but you don't have time to say the pledge of allegiance?"
In fact, Brianda had been absent the day before, but had not participated in the demonstration.
Brianda said she missed school because she went to a dress-fitting for her quinceañera. The festive occasion is a Hispanic tradition to mark when a girl turns 15.
"I didn't go to the thing (demonstration). She assumed. She doesn't even know," the teen says.
ILLEGAL IMMIGRATION: Counting The CostMore News Stories