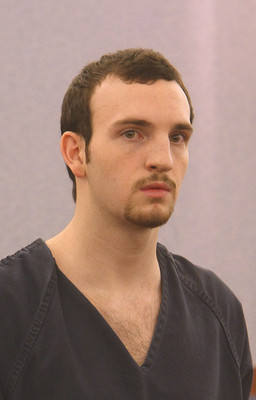 One of two teenagers accused of attacking a group of teens associated with a rival graffiti gang pleaded guilty Monday to a felony that will put him away for four to 40 years.
Chaz Jenkins, 19, pleaded guilty in District Judge Stewart Bell's courtroom to attempted murder with use of a deadly weapon with the intent to promote gang activity. The prosecutor agreed to drop two theft-related charges pending against him in Justice Court.
Jenkins was the driver of a red pickup that near midnight on Feb. 26 chased a group of teenagers who were thought to be part of a rival gang and driving a white Scion from a local skate park.
Authorities suspect that now 20-year-old Justin Pearce fired shots at the Scion's driver, 18-year-old Joshua Enriquez, and three other teens, one of whom was shot in the elbow.
Enriquez, who has denied being a gang member, was hit by a bullet in the neck, according to a Las Vegas police report.
The car chase ended near Alexander Avenue and Rancho Drive, where Enriquez said he covered his head with his hands as Jenkins came over to his car and smashed his car windows with a yard tool from the back of his pickup before the pair drove away.
Jenkins' lawyer said the teen used a lawn edger.
Both were charged with 14 felonies, including placing graffiti to promote criminal gang activity and four counts of attempted murder with use of a deadly weapon.
Pearce is awaiting trial, scheduled in Bell's courtroom next week. Jenkins is not required to testify against Pearce as part of the plea agreement, prosecutor Victoria Villegas said.
Jenkins and Pearce are self-admitted members of the EW gang, which stands for Evil Writers or Evil Ways, law enforcement officials said.
"They're so loosely organized they couldn't even figure out what their real name was," said Jenkins' attorney, Robert Langford.
Police have described Jenkins and Pearce as two of the most active graffiti vandals in the valley and the EW gang as one of the most prevalent graffiti groups.
Villegas said Jenkins is required by law to pay restitution, including more than $5,000 for graffiti cleanup, and cover medical expenses related to the victims' gunshot wounds and the damage to Enriquez's Scion, the amounts of which have yet to be determined.