Terror expert warns Nevada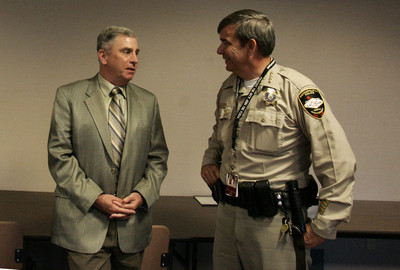 Suggesting that Las Vegas contains the types of entertainment targets considered iconic by terrorists, a retired general who oversaw military operations in Iraq and Afghanistan told the Nevada Homeland Security Commission on Wednesday that the state must find a way to pick up the tab if federal homeland security funding is cut to states.
Retired Gen. John Abizaid, a Gardnerville resident who was head of the U.S. Central Command from 2003-07, said al-Qaida involvement in a 2002 nightclub bombing that killed more than 200 people on the Indonesian resort island of Bali shows that the terrorist group believes strikes on targets symbolic of pleasure can have a particularly paralyzing effect on a country.
"Whether the feds give the money or not, it's a task we have to take on," Abizaid said in urging the commission to find a way to continue to fund the "right architecture" of information, intelligence and people to combat possible terrorist efforts in Nevada.
Before his presentation, Abizaid heard discussion at the meeting that indicated it was likely that not as much federal money would be appropriated in the future to states for homeland security.
"It (terrorism) can happen here," said Abizaid, who warned in an interview that security efforts cannot be lessened when intelligence has shown that terrorist groups are searching for ways to further strike the United States.
How the financially strapped state could make up a homeland security funding shortfall that could run into millions of dollars is unknown.
"We just couldn't do it at this point," the commission chairman, Dr. Dale Carrison, said after the meeting. "We couldn't even do a matching program."
Abizaid, who retired last year as a four-star general, is now a visiting professor in counterterrorism at the U.S. Military Academy at West Point, N.Y., where he graduated in 1973.
Even if the next president chooses to drastically cut back on military involvement in Iraq, that doesn't mean the United States won't be deeply involved in the Middle East, Abizaid said.
In addition to addressing the long simmering conflict between Israelis and Palestinians, Abizaid said, the United States must deal with al-Qaida as well as extremists from Iran.
If U.S. reliance on oil from the Middle East is not lessened, it will remain difficult for the president to make policy in the area that is best for the country, he said.
But Abizaid believes terrorists have been kept off balance by U.S. military involvement in the Middle East.
There is "a very clear linkage," he said, regarding American military involvement in Afghanistan and Iraq and the fact that there have not been further terrorist attacks on American soil.