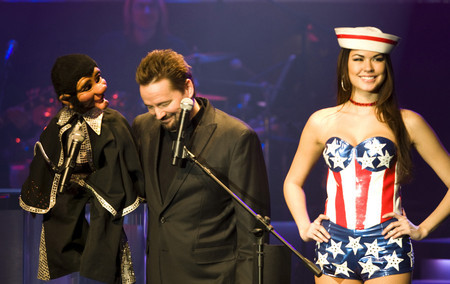 Ten days after announcing he was getting a divorce, Mirage headliner Terry Fator confirmed Tuesday that he is dating his former on-stage assistant.
The singing ventriloquist, who won "America's Got Talent" in 2006, and Taylor Makakoa went public with their relationship Monday when they were seen holding hands at a Susan G. Komen breast cancer benefit party in Rhumbar at The Mirage.
Asked to clarify the relationship on Tuesday, Fator's public relations company, Kirvin-Doak, released a statement saying, "Terry Fator met Taylor Makakoa while she was performing in his show, but she actually left the show in March. The two just recently started dating."
She has not rejoined the show, according to a Kirvin-Doak rep.
Makakoa appeared in his opening night show March 14 wearing a star-spangled Wonder Woman-like outfit. Go to this Web link for a video of her on RawVegas.com: http://tinyurl.com/lqvm5x
During an interview with Vegas Confidential that night, the Hawaiian beauty gave her age as 18 and identified herself as Taylor Dew. She had attended the media night event with family members.
Fator, 44, called reporters on July 4 to announce he was getting a divorce from his wife, Melinda, after 18 years of marriage.
He confirmed that they had split in January and that she filed for the divorce in Texas in February. They have no children.
During his Fourth of July call, Fator said the dissolving marriage "wasn't the pressures of a career. It was more personal matters. Just some things we were unable to see eye to eye."
Fator's wife broke her silence later Tuesday, saying she was "blind-sided" by his request for a divorce. She told Alicia Jacobs, entertainment reporter at KVBC-TV, Channel 3, that she and Fator agreed 20 years ago not to have children, but he came to her earlier this year and said he had changed his mind.
Melinda Fator said she was not shocked that her estranged husband was dating Makakoa because they had spent considerable time together in the last year performing on the road.
MEDIA UPDATE
KLAS-TV, Channel 8 reporter Edward Lawrence reported Tuesday that Las Vegas Mayor Oscar Goodman is having a public 70th birthday bash at the Golden Nugget on July 31. …
Former co-anchor Shelley Bruner, who left KVVU-TV, Channel 5, in February, is moving to the entertainment world. She's joining David Saxe Productions as vice president of communications starting July 20. Saxe owns V Theater at Miracle Mile Shops/Planet Hollywood as well as a 15,000- square-foot production studio in downtown Las Vegas. …
Colleen Budin, former reporter/weekend anchor at KLAS and a 16-year TV veteran, has opened a public relations company, ThinkMedia Now. Her Web site is www.thinkmedianow.com.
THE SCENE AND HEARD
Embattled U.S. Sen. John Ensign's run of bad news has finally turned the corner. It started with his wife, Darlene, being involved in a traffic accident while backing up their SUV. Most of the damage was to Ensign's bicycle, which was attached to the back of the SUV. The good news: Ensign, a hard-core cyclist, reportedly got a new $7,000 bicycle out of the mishap. …
Here's some news that won't be welcomed at the World Series of Poker: Joan Rivers is returning to Las Vegas in August and September, for the first time since she lambasted poker players as "white trash" and "mafia" while berating poker star Annie Duke on "Celebrity Apprentice." Rivers is appearing at The Venetian Showroom Aug. 27-29 and Sept. 3-5. …
SIGHTINGS
NBA Commissioner David Stern, having lunch at Simon at Palms Place on Tuesday. …
Jered Weaver, who upped his record to 10-3 with the California Angels with a win over the New York Yankees on Saturday, dining at N9NE Steakhouse (Palms) Sunday. …
THE PUNCH LINE
"California lawmakers are still trying to close the state's massive budget deficit, so they're now talking about saving money by consolidating state agencies. By far the most controversial proposal is for a "Department of Education, Firearms and Alcohol." — Conan O'Brien
Norm Clarke can be reached at (702) 383-0244 or norm@reviewjournal.com. Find additional sightings and more online at www.normclarke.com.