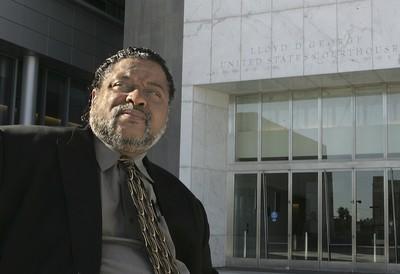 Civil rights attorney James W. Myart Jr. first surfaced in Las Vegas last year, when he was hired to represent the family of a young man who was shot and killed by police while handcuffed and fleeing.
Since then, calls have rolled into his Texas office.
Myart might be a popular choice because he is boisterous and has drawn media attention. He also is willing to aggressively go after the Metropolitan Police Department.
The problem is he is not licensed to practice law in Nevada.
Myart has submitted several applications to represent clients in Nevada. Whether he will be permitted to pursue the Las Vegas cases is largely up to U.S. District Judge Kent Dawson.
Dawson will preside over the case of Thomas Oden, whom Myart represents. Oden claims police shot him in the back after he tossed a gun.
Myart also represents the families of Swuave Lopez, the young man who was shot and killed by police while handcuffed and fleeing; Shawn Collins, who was fatally shot by police after a domestic violence dispute; and James Lewis, who was hit twice by police Tasers and died while in custody.
Myart told reporters last year that he had received dozens more calls from Las Vegans claiming they were victims of police brutality.
The first hearing before Dawson on the matter took place Thursday.
Myart told Dawson that the judge's decision will probably influence other judges' rulings on whether he's allowed to argue the cases.
Myart's courtroom theatrics and attention-grabbing shenanigans have earned him a reputation as an attorney bent on disrupting the legal process in Las Vegas.
"The court is concerned with your ability to maintain the integrity of your profession," Dawson told Myart during Thursday's hearing.
The antics that drew Dawson's attention occurred during a January coroner's inquest into Lewis' death.
Myart wrote questions for the Lewis family to submit to inquest hearing master Lanny Waite, even though county codes allow only family members or their licensed attorneys to pose questions during the process.
At the time, Myart defended his actions, saying he was only helping the family deal with "very trained, very coached witnesses who intentionally killed a man."
During the inquest, Las Vegas police officer James Bertuccini testified that he and his partner were in the area of Las Vegas Boulevard and Cheyenne Avenue at 2 a.m. on Oct. 19 when they heard a robbery call over the radio. The robbery occurred at the nearby Sly Fox Lounge.
Bertuccini noticed Lewis in the area and fixed a spotlight on him. Lewis ran and jumped a wall, dropping a bottle of liquor and a toy gun. When the officers caught up with him, he took a fighting stance, Bertuccini said.
Unsure whether Lewis was armed, the officers launched their Tasers.
Lewis died later that morning.
Myart said Thursday that Waite initially allowed him to assist the family as long as he did not provide legal advice. Myart questioned the fairness of the inquest process, because poor families unable to afford an attorney must represent themselves.
He said the Lewises were not well-educated and could not articulate the questions unassisted.
"It was their thoughts, their ideas, their questions, their compassion, their anger," Myart said of the questions submitted.
After a break in the inquest, Waite objected to Myart's role.
During a heated exchange with Waite at the inquest, Myart dropped to his knees and referred to the hearing master as "your highness."
According to news accounts, he later called Waite and the inquest process "racist."
"Mr. Myart had during the course of the coroner's hearing engaged in conduct that is of concern to this court," Dawson said.
Myart explained that he meant to call Waite "your honor" but misspoke.
"That was, in fact, a slip," Myart said at Thursday's hearing, which also was attended by Waite. "I did not intend any of that action to be disrespectful."
He said he did not recall making the racism allegation.
Dawson asked whether, during the inquest, the Lewis family had told Myart to stop the theatrics after he dropped to his knees. Dawson said he understood Myart's response was, "Be quiet. I know what I'm doing."
Myart said he could not recall the comment, but Waite, sitting in the spectator area of the court, adamantly shook his head "yes."
Dawson said he called Thursday's hearing after reading a Review-Journal account of the coroner's inquest. However, the report made no mention of Myart dropping to his knees or the family asking him to stop.
Waite, who has filed a complaint against Myart with the Texas State Bar, explained to Dawson how Myart had played to the media that day.
"He became agitated," Waite said. "He eventually looked at the TV cameras, turned and dropped to both knees, clasped his hands together and said, 'Yes, your highness.'"
Waite also questioned Myart's opinion regarding the Lewis family's ability to represent itself at the inquest.
"It appears to me your clients are intelligent and perfectly capable of asking questions," Waite said. "The questions were better after Mr. Myart left" the inquest.
When Dawson asked Waite whether Myart had disrupted the hearing, Waite quickly responded: "He did so very distinctly."
Myart's 19-year legal career has not been trouble-free. Ten years ago, he received a four-year suspension in Texas. Myart declined to elaborate on the suspension but said it was a learning experience.
He pleaded with Dawson to allow him to practice in Nevada, saying the families he represents have little money and are not capable of hiring other lawyers.
He vowed to be on his best behavior.
"I would expect any hint of any such behavior would provide the railroad not only out of this court, but out of the practice of law," Myart said.
Dawson said he would render his decision quickly, but he did not offer a time frame.