The Oscars were a little bit country this year.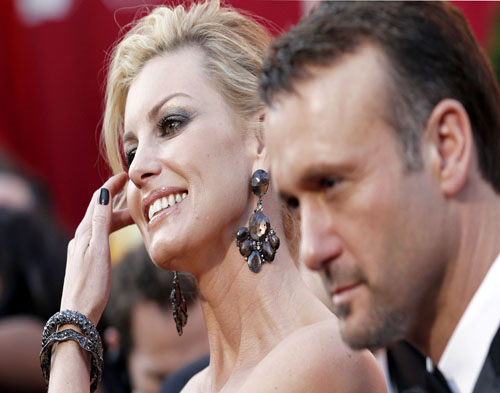 'Crazy Heart,' which stars Jeff Bridges as an aging country music star, was the most obvious presence on the red carpet at Sunday's ceremony. Bridges was nominated for best actor, Maggie Gyllenhaal was nominated for best-supporting actress and the song 'The Weary Kind' by Ryan Bingham and T-Bone Burnett was up for best song.
But Tim McGraw, co-star of the best-picture nominee 'The Blind Side' was also in attendance with his wife, Faith Hill. McGraw plays the husband of Sandra Bullock's character in the film.
Miley Cyrus was also at the Kodak Theatre to present an award. She came with her mother, Leticia Cyrus, but not her father, Billy Ray Cyrus.
'Last time I was here, I was with my dad,' the young pop star told E!'s Ryan Seacrest. 'He kept stepping on my dress, so I'm hoping that doesn't happen again.'