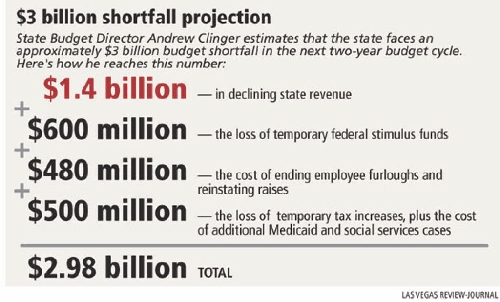 CARSON CITY — A conservative think tank is accusing state officials of misleading the public by exaggerating a projected state budget shortfall.
State officials, including Budget Director Andrew Clinger, have said that Nevada must tackle a $3 billion budget shortfall in a two-year period that starts July 1.
But the Nevada Policy Research Institute contends that the true figure is less than half that, $1.4 billion, and that spending must be trimmed rather than taxes increased.
Why the difference? The $3 billion figure includes new spending to end state worker furloughs and reinstate raises, to handle increases in Medicaid cases and to compensate for the loss of stimulus funding and temporary tax dollars.
The amount of the estimate — which Senate Majority Leader Steven Horsford, D-Las Vegas, said could be as high as $3.4 billion — is significant. It will guide spending and tax decisions by the Legislature and new governor when the state is mired in a recession. Next year, they must decide whether to increase taxes, cut services, reduce salaries and benefits, end furloughs, lay off workers or, as expected, do a little of everything.
Horsford said last week that he anticipates $1.5 billion in tax increases and $1.5 billion in spending cuts.
The institute suggests a different model.
"We need to restrain spending," said Victor Joecks, deputy communications director of the Las Vegas-based conservative think tank. "We don't need to mislead the taxpayer into thinking it is a crisis."
But Clinger defended his use of the $3 billion figure, contending some additional spending is unavoidable because of increases in the Medicaid and other caseloads.
And Clinger said that there are several major items that affect the budget that the think tank did not mention and that his projection of a $3 billion shortfall includes the effects of tax increases that are ending, federal funds that are expiring and the continuing decline in tax receipts.
For instance, $600 million in federal stimulus funds used to balance the current two-year budget will not be available after this year. The Legislature must either cut spending by that amount or find another source of revenue.
Clinger said temporary tax increases — such as the 0.35 percentage point increase in the sales tax rate and a near doubling of the payroll tax — will expire June 30 unless reauthorized by the Legislature.
At the same time, the state is experiencing record growth in Medicaid and other social service caseloads. The net effect of the caseload growth and the loss of the temporary taxes is $500 million, Clinger said.
The Legislature needs to find additional revenue to cover the $500 million or cut spending by that amount.
Another $480 million must be found if the Legislature decides to re-establish the automatic pay increases that most state workers received in the past and if it discontinues the furlough program that requires employees to take one unpaid day off per month. The furlough program cut worker pay by 4.6 percent.
Most teachers and state employees before the 2009 session received grade-in-step pay increases of about 4.5 percent a year. Veteran employees not eligible for such increases typically received $50 to $100 a year in longevity pay for each year of service.
The furlough program and freeze on step and longevity pay will expire June 30. Clinger acknowledged the Legislature in 2011 could vote to keep the furloughs and freezes, sparing the need to find $480 million.
Joecks is disputing Clinger's assertion that the state has to secure $8 billion in revenue during the next two-year budget period to cover furloughs, loss of federal funds and taxes and caseload growth.
"I want the issue framed correctly, and then we can have a debate on what spending should be," Joecks said.
Clinger told the news media two weeks ago that he is preparing a 2011-13 budget plan of slightly more than $5 billion that includes 10 percent cuts for all state agencies.
Joecks said state legislators used stimulus funds in the current budget to cover budget holes when they needed to make spending cuts.
Legislators during the 2010 special session also used $300 million in funding from state agency reserve accounts to cover current spending. That money will not be available in 2011.
Joecks said the institute last year found a way to balance the state budget without tax increases by reducing spending to 2003-05 budget levels, and it intends to come out with a balanced-budget plan for 2011-13 that will not call for increasing taxes.
Contact Capital Bureau Chief Ed Vogel at evogel@reviewjournal.com or 775-687-3901.