'This Is It' will play in theaters through Thanksgiving
November 1, 2009 - 3:42 pm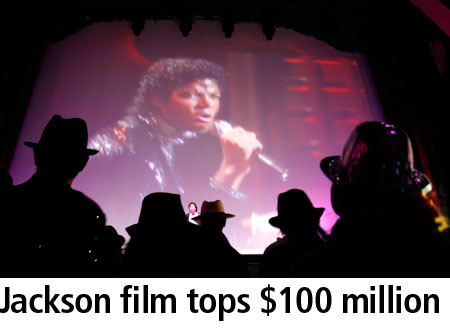 LOS ANGELES (AP) — "Michael Jackson's This Is It" pulled in $101 million worldwide in its first five days, and distributor Sony is extending the farewell performance film beyond its planned two-week run.
The film was the No. 1 Halloween thriller domestically with a $21.3 million opening weekend, according to studio estimates today.
The previous weekend's No. 1 movie, Paramount's low-budget horror sensation "Paranormal Activity," slipped to No. 2 with $16.5 million, lifting its total to $84.8 million.
"This Is It" raised its domestic total to $32.5 million. The movie pulled in $68.5 million overseas, including $10.4 million in Japan, $6.3 million in Germany, $5.8 million in France and $3.2 million in China.
"He's just loved everywhere on the planet," said Rory Bruer, head of distribution for Sony. "It doesn't matter if it's Asia, Africa, Australia, Europe, South America. Every continent in the world loved him and his music."
In Great Britain, where Jackson had planned a marathon series of 50 London concerts starting last July, the movie earned $7.6 million.
"This Is It" captures Jackson in behind-the-scenes performances in the weeks before his death last June, as he rehearsed his biggest hits for the London shows.
"This Is It" originally was scheduled for a theatrical run of only two weeks. The studio has extended it a few more weeks domestically, leaving it in theaters through Thanksgiving weekend, one of the year's busiest moviegoing times.