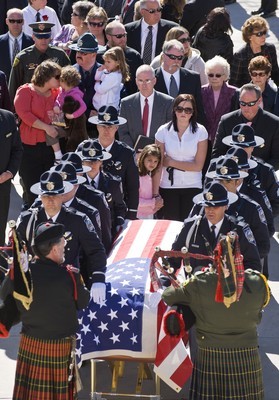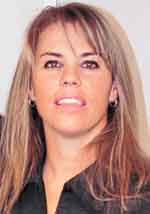 RENO — Thousands of law enforcement officers from across Nevada, along with friends and family, joined here Wednesday to mourn and honor Highway Patrol trooper Kara Kelly-Borgognone, the first female law enforcement officer to die in the line of duty in Nevada.
A funeral procession that extended for at least two miles made its way through Reno to the memorial service at the Lawlor Events Center on the University of Nevada, Reno campus where a helicopter hovered overhead. More than 3,000 people attended, including Gov. Jim Gibbons and his wife, Dawn.
Representatives from law enforcement agencies in Washington, California and Idaho attended, as did officers from Southern Nevada, including Las Vegas, North Las Vegas, Henderson and other jurisdictions.
She was remembered by family and colleagues at the service as a "cop's cop" who took her job seriously but who also made time for her husband Dirk Borgognone and daughters, Blair, 13, and Ashlyn, 3.
"She was fearless in her job," said Col. Chris Perry, chief of the Nevada Highway Patrol. "It was her calling and something she loved very much. But she had her softer side."
Trooper Dave Kester, who worked the same graveyard shift with Kelly-Borgognone in the Northern command in Reno, said all the officers knew they could depend on her to back them up in any situation.
"Kara was my friend and one hell of a good cop," he said.
Nevada Highway Patrol Trooper Chris Kelly, the older brother of Kelly-Borgognone, said it was an honor to be able to work with her in law enforcement.
Kelly-Borgognone, born in Fallon, started her law enforcement career as a juvenile parole and probation officer. She then transferred to the Highway Patrol.
Kelly-Borgognone, 33, was critically injured in an automobile accident while on duty on Feb. 25. She remained on life support and died three days later.
She was responding to a report of a bomb threat when her patrol car was broadsided by another vehicle. The other driver received only minor injuries. The accident is still under investigation.
As a probation officer in 2006, Kelly-Borgognone shot and killed a parolee who was resisting arrest and had tried to take her gun away. Christopher Michael Tallman, 25, managed to get Kelly-Borgognone's gun out of her holster but she wrestled it back and shot him in the head and chest.
She earned the Silver Medal of Valor, and her supervising sergeant had just submitted her name for an award from Mothers Against Drunk Driving because of the number of DUI offenders she took off the streets.
Dirk Borgognone carried Ashlyn to the flag-draped casket where they placed a single red rose.
His voice choked with emotion while recalling when they first met, the birth of Ashlyn and other major events of their life together.
Borgognone said they had their ups and downs as a couple. "We weren't perfect," he said. "But we were perfect for each other."