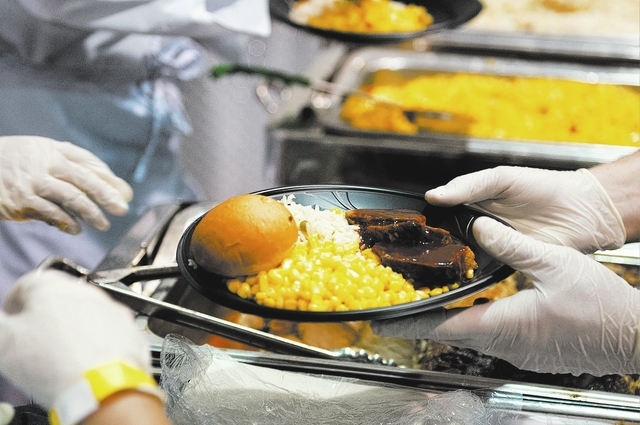 Hundreds of people, many of them homeless or at risk of living on the streets, lined up Tuesday morning against the wall at Cashman Center as they waited for access to crucial services.
Some had camped out overnight and lined up as early as 5 a.m, officials said. Free services, including haircuts, meals, medical services, job training, housing assistance, mental health counseling and veteran services, awaited inside.
"I'm here to see doctors and get a haircut," said Mark Hecht, 55, as he waited to enter Cashman Center.
The annual Project Homeless Connect event is coordinated by the Nevada Homeless Alliance in partnership with the Southern Nevada Regional Planning Coalition's Committee on Homelessness.
Inside the center, people walked from section to section, some going through piles of available clothing hoping to find items that fit.
In a room toward the back of the center, dozens of children played or watched "Finding Nemo." They ate or napped as their parents sought the help they needed.
Some people brought their pets to update their shots.
The 2013 Southern Nevada Homeless Census and Survey conducted in January found 7,355 homeless people living on the streets throughout Clark County. That is a decrease from 9,432 homeless people in 2011.
Tyrone Thompson, regional initiatives coordinator for the Southern Nevada Regional Planning Coalition, said officials want to connect people to available services.
About 1,200 people preregistered this year, he said. More than 2,900 people attended the event.
"A lot of connections are made on the spot and later with referrals," said Thompson, a Democratic assemblyman for North Las Vegas.
The most-used resource during the annual event are the court services, he said.
Officials do a prescreening of warrants or other legal matters, and judges on site hear the cases and make determinations on a case-by-case basis.
Kiara Kennard, 24, was among those in the court services line, one of the longest at the event.
Kennard was hoping to get a waiver for a $550 traffic ticket that is due by Dec. 18.
"It's a lot of money, especially for a single woman with two kids," said Kennard, who has a 4-year-old girl and a 5-year-old boy.
Hecht, who is staying at a substance recovery home for the homeless, suffers from diabetes.
There is a need for more of these kind of events, he said, adding this is the second time he has attended one.
"All the people out here is a testimony that there's a lot of people in need," Hecht said. "I think they need to have them (the event) twice a year."
Project Homeless Connect, which has taken place for more than 20 years, has seen attendance rise and fall over the years, Thompson said.
This year, the number of providers grew to 130 from 100 last year, he said. Close to 400 volunteers took part.
Julia Halbritter, 32, attended the event in 2008 and 2009 to get help. She was living in a shelter at the time and, through services the events offered, she was able to get into a housing program.
A combination of services helped turn her life around.
She is now married and working toward a bachelor's degree in psychology through Grand Canyon University by taking online courses.
This year, Halbritter was back, this time as a volunteer.
She was working at the check-in area, helping escort people to the various sections.
"It feels exciting," she said of getting back on her feet. She now wants to give back to those who helped her.
She said it's important that people follow through with the services or referrals they receive.
"They guide you in the right direction," she said.
Reporter Yesenia Amaro can be reached at (702) 383-0440, or yamaro@reviewjournal.com.