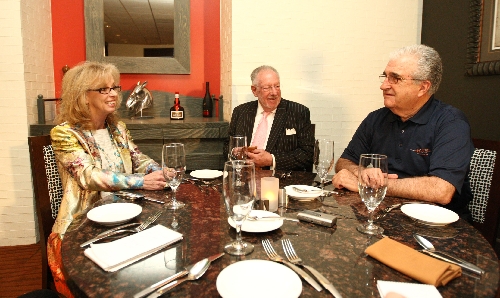 The three living Las Vegas mayors sounded like old friends Thursday when they sat down for lunch. You never would have known it was the first time they had broken bread together.
Mayor Oscar Goodman and predecessor Jan Jones, two of the most outspoken intellects in local political history, have occasionally sparred in the press. But any differences Goodman, Jones, and former Mayor Ron Lurie might have had were replaced by collegiality and candor about their efforts in office, faith in Las Vegas, and hope for the future of the community.
Lurie, an athletic 70, played the gracious host inside his Ron's Steakhouse at Arizona Charlie's on Decatur Boulevard. A neighborhood guy at heart, he is the general manager of Arizona Charlie's, which is located not far his longtime family home and near the site of the old Decatur Wonder World store where his dad, Art Lurie, worked.
After a long tenure on the City Council and after serving as mayor from 1987 to 1991, the Las Vegas High graduate returned to the neighborhood where he has spent so much of his life.
Jones, 62, in many ways was the city's first modern, multimedia mayor. After serving two terms in office from 1991 to 1999, and a pair of unsuccessful runs for governor, she joined fellow Stanford graduate Phil Satre at Harrah's Entertainment and immediately became the face and spokeswoman for the company.
As senior vice president of communications and government relations for Caesars Entertainment, today Jones is also in charge of the company's charitable foundation. She has emerged as the conscience of the corporation.
Then there was Goodman, the 71-year-old Penn graduate and unrepentant former mob lawyer, who has taken the office of mayor in a strong-manager form of government and given it the high profile of a Thanksgiving Day Parade balloon. In the process, he has led the fight for downtown redevelopment and emerged as the most popular politician in Las Vegas history.
Larger-than-life describes Goodman's persona, but these days he has moved from center stage to cheer for the mayoral candidacy of wife Carolyn.
I grabbed a seat next to KLAS-TV, Channel 8 reporter George Knapp at the table and listened as three veterans of the battle to save downtown outlined the arc of Las Vegas redevelopment. Their pride of ownership was immediately evident.
Here's some of what I heard.
Last three mayors
"We're the last three mayors," Lurie began.
"Oh, geez, don't put it that way," Goodman replied to laughter all around.
"I figured it would be nice that we'd all get together and have a little talk about things that happened in the '70s, '80s, '90s, and through your term," Lurie explained, not needing to add that he is proud of the handsome restaurant that bears his name. "My term on the City Council from '73 to '91 was when everything was booming, jobs were plentiful, construction was plentiful, and a lot of zoning and planning things that went on that we all took part in."
Lurie expressed particular pride in Symphony Park, noting the city obtained the land from the railroad. "I think each board does certain things, and the other boards kind of pick up on it and move forward."
Goodman: "There's very little institutional knowledge. I think if there's a glitch, it is that when each mayor comes in it's almost like you're starting from scratch. There's not the continuum of ideas."
Jones: "You know, there sort of is, though. If you look back to downtown redevelopment. … To Ron's point, they began to look at how you put the land together. … We really did all of the master planning at Union Pacific, and the reason the county's there. Paul Christensen was going to move the county out to Summerlin, and I went back and met with Union Pacific and said, 'If you give me a deal on these 5 acres of land, then I will work with you aggressively in the master planning so you can get your money out of the property.' They did it (but) they tried to blow it up at the end because it was such a good deal. It was 15 or 20 acres for $4.5 million, then I held a press conference and gave it to Paul Christensen for a dollar, because I knew he couldn't say no. He couldn't walk away from that.
"They built the county building downtown because we recognized you had to keep government down there. And you had to have the Fremont Street Experience to be the economic engine."
But not one without controversy. All three mayors explained downtown redevelopment often has been opposed by the people who stood to benefit from it most: longtime downtown property owners.
Railroad town
Las Vegas redevelopment is a story of a railroad town undergoing great transition until its rail yard became essential to the survival of the heart of the city.
Goodman recognized he was building on the hard-fought and sometimes flawed successes of his predecessors.
Goodman: "The truth of the matter is, government does nothing without the private sector being involved. I am absolutely convinced of that. And when the World Market Center came to us, we started to use tax increment financing. When the Premium Outlet came to us, tax-increment financing. Then (developer Irwin) Molasky figured that he could make a lot of money doing public projects. He built the IRS building. Then he built the (Southern Nevada) Water Authority building. And that formed the perimeter of the 61 acres.
"And then, once again, you get lucky. You have Larry Ruvo, whose dad passes away. He's going to build a memorial for his dad, and we're friends. So I say, 'Larry would you put it down there?' And then he goes and gets Frank Gehry to design it. And then I get lucky because all of a sudden, the performing arts center, which has been discussed, Reynolds (Foundation) comes along and says they're going to finance it. So it happens on my watch. It's a lot of luck."
Lurie: "The one thing we had to do was get that land, the railroad out. We had to get with the Union Pacific Railroad and move them out to Arden to get that land available. And they spent $15 (million) to $20 million dollars just cleaning it up, with all that diesel fuel and the brake trimmings and the things that they did, because that was the switchyard. So that ground needed to be ready for construction. So that was one of the parts.
"The other part that I look at that really helped downtown was Steve Wynn. When Steve called me one day on Thanksgiving and said, 'I need to see you.' This is when he took over the Golden Nugget. And he said, 'I want you to bring Paul.' Paul (Christensen) was on the board with me. And I said, 'It's Thanksgiving. Do we really need to meet on Thanksgiving Day?' He said, 'Well, it's only gong to take an hour.' Four hours later, we finally got to what he wanted. Steve says, 'Look, I want to make a big investment in downtown. I want to build new rooms. I want to provide 800 jobs. I want to do a showroom.' I said, 'OK, what do you need?' He said, 'I need Carson Street closed.' He says, 'The problem you have with downtown is it's a railroad town. You have 25-foot lots downtown. You need to put large parcels together in order to build a megaresort. That's what I want to do.' So he was kind of the visionary who got the city thinking that we need to move forward with giving him that street."
Not everyone was sold on Wynn's vision.
Lurie: "We had the Downtown Progress Association at the time, made up of all the casino owners and business people that were downtown. Yes, they objected to closing that street and changing the traffic that would have an effect on their businesses. But the board decided that this was a great investment. It provided jobs and it was providing something that downtown needed to grow."
Growing pains
That growth came at a price. The decision to use eminent domain to force the sale of downtown property harmed the city's reputation. But, as Jones would say, hard choices had to be made.
Jones: "Coming into '91, 80 percent of the people who were coming to Las Vegas weren't coming downtown anymore, because Mirage was happening; all this growth was happening on the Strip. So you had to do something to give an attraction to bring people downtown. That was Fremont Street Experience.
"Controversial, for a number of reasons, but any time you're assembling property for redevelopment, and giving it to someone else, there are going to be difficult decisions. But if you hadn't done it, people had no reason to come downtown. In essence we created the world's largest casino, where people could walk around, feel safe and secure, which then allowed the dynamic to continue downtown redevelopment."
A number of property owners feared the change.
Jones: "They wanted it the way it was, and I really understand that. But if you'd stayed with what they'd wanted, then downtown would have died.
"There would be no Symphony Park. And there would be no housing. And there would be no Arts District. And there wouldn't be those jobs. I hate to say you had to make choices, but you did have to make choices. I still believe that downtown should become the center of the community. What Las Vegas lacked as a city was a core, a core where you have performing arts and medical and an art district and entertainment district, and that's what you have now. But that doesn't happen without some hard decisions. Could we have handled them better? Absolutely."
While Lurie was a businessman who spent a long tenure on the City Council before rising to the mayor's job, Jones and Goodman burst on the scene at City Hall. They were the first mayors to seize the bully pulpit of a position that for decades seemed almost ceremonial.
Jones: "What I found the most interesting thing, when I was mayor, is the mayor has almost no real authority. They don't have taxing authority. They don't have education, which is why I kept wanting to run for governor, because if you really want to change anything, that's where you can change it. But what you do have is the podium. And you can call attention to any issue, whether it's your issue or not, by the sheer force of your personality, which you've seen Oscar do. So if you want to talk about education, you can make everybody focus on education. Or you can make them focus on community development, or seniors. It's amazingly powerful."
Goodman: "It's a force of personality. That's what it is. You become the face, and you become the voice of perhaps Nevada, not even Southern Nevada. When there's an issue in our community here, they don't call anybody but the mayor of Las Vegas."
Jones: "I still have people calling me saying, 'Mayor Jones, can you help me?' "
Goodman: "I don't doubt it. They don't call the city manager. They don't call the county commission. They call the mayor. And the mayor goes on CNN and ABC and '60 Minutes.' It's the mayor."
Lurie: "The people who live here, they don't know the boundary lines. You're their mayor."
Goodman: "It's always the mayor. And it's not the mayor of Henderson, with all due respect. It's the mayor of Las Vegas. …
"When I was elected the first message I got at my law office the day after the election, my secretary said, 'Guess who called? I said, 'Who?' She said, 'The president.' I said, 'The president of what?' She said President Clinton called at 5 o'clock and said congratulations for being elected to the fastest-growing city in the United States. It was awesome. I tell people the closest I'd ever been to the president before is when the FBI used to follow me."
But by focusing on redevelopment, Goodman seized the opportunity to shift the fortunes of downtown.
Goodman: "I think if I did anything that was smart, I took a very narrow slice of what a mayor can do, to the bully pulpit. And it was redevelopment, basically. I agree with Jan 100 percent, that downtown was supposed to be the epicenter of the great medicine and the great culture and the arts. That was something that appealed to me, so I began to talk about it."
Public service
By the end of lunch, it was clear to anyone listening that the three Las Vegas mayors, despite their diverse backgrounds and unique personalities, shared something in common.
Goodman: "You know something that's interesting about the three of us? We all came from the nongovernment sector into the job, and none of us needed the job. Ron and his dad were very successful business people. Jan was a very successful business person. I was a successful lawyer. And I think we did it all for the right reasons. Really.
"I know it sounds cliché-ish, but I think we wanted to be of service."
John L. Smith's column appears Sunday, Tuesday, Wednesday and Friday. E-mail him at Smith@reviewjournal.com or call (702) 383-0295. He also blogs at lvrj.com/blogs/smith.