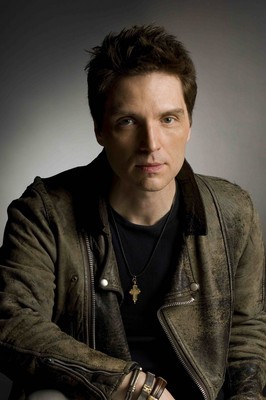 Richard Marx fully admits why he became a musician.
"I started playing music for the same reason 99 percent of guys do, which is to hook up with girls." Because he had "no game" as a teen.
Marx — performing Saturday at Aliante — got famous for singing "Hold On To The Night," "Right Here Waiting" and other hits in the 1980s and 1990s.
But he loved the journey and creative process, not the celebrity lifestyle, he says.
When his hits petered out, he stopped recording his own albums to write and produce for 'NSYNC, Keith Urban and others.
He's not bitter, he says.
"My wife said something to me years ago," he says. "She said, 'Sometimes it's just not your turn.'
"Pretty much, everything I put out was a hit. And for me to sit and go, 'I want it to be my turn again' — I don't want to be that guy."
His wife of 20 years, Cynthia Rhodes, was the female lead in "Staying Alive" with John Travolta. She danced in the background of "Xanadu." She was in "Flashdance." And she played pregnant Penny in "Dirty Dancing." Then, she split her business to be a mom. She also has no regrets.
" 'Dirty Dancing' is such a phenomenon, and it's so ubiquitous. And Cynthia's just scratching her head, going, 'It's really not that good.' She's great in it. People still think of her as Penny," Marx says.
But neither of them, living in his native Chicago, misses celebrity; their idea of hell is going to a party.
Marx even banned tabloids and "Access Hollywood" from his life, finding celeb news irritating, mind-numbing infotainment.
"It's almost like a cleansing. It's almost like becoming a vegetarian. You just feel healthier."
He's what I call a "celebretarian," I say, and he responds, "Yeah, exactly. I'm gonna use that word."
I informed him Heidi and Spencer from MTV's "The Hills" will be in Vegas for a red carpet Saturday night. He mocks them: "Cool, because we all want to be like them," and says his teen kids and their friends think stars like Heidi and Spencer "are a total waste of time."
"Most of the kids I talk to — they are still sort of impressed by somebody who can DO something."
I told him I'd list Heidi and Spencer in an item in this very column, after quoting him trashing them. "Cool!" he said.
THE FAMOUS IN VEGAS
• Heidi and Spencer ARE doing a red carpet at Pure at Caesars on Saturday. Other clubbers this weekend: Aubrey O'Day and Khloe Kardashian. Check that out, plus Valentine's specials, on my blog — including a gay "bare as you dare" charity party, a "Cupid is Stupid" party and how you can rent the entire Eiffel Tower for a Valentine's hour for … $2,500!
• Also in concert: Chris Isaak. He chats with me in today's Neon section. Check out Neon to see who else is playing and when: Billy Joel, Cradle of Filth, Styx, Jay Leno, Puscifer, the Zapp band, Kansas, The Doobie Brothers, Crystal Gayle, Stephen Marley and Chubby Checker.
What do you think about all this? Write your thoughts on my blog (reviewjournal.com/elfman) or e-mail me (delfman@reviewjournal.com), and I'll post them. My column runs Sundays, Mondays, Tuesdays and Fridays. See you then.