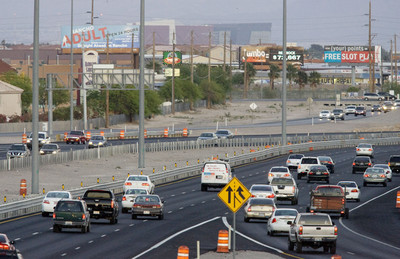 CARSON CITY — A proposal to allow for privatized toll lanes in Las Vegas as a way to help reduce a huge funding shortfall for Nevada highway projects was endorsed Thursday by the Nevada Transportation Board.
Gov. Jim Gibbons, the board chairman, joined with other panel members at the meeting to back the 19-mile demonstration project. Gibbons opposes higher taxes, but a spokesman said after the meeting that the voluntary freeway toll doesn't clash with his anti-tax philosophy.
The pilot project, which requires approval from the 2009 Legislature, would be on Nevada's busiest stretches of road: U.S. Highway 95 to Interstate 15, and I-15 south to Interstate 215.
Express lanes for cars with two or more passengers and for emergency vehicles exist on part of the route already. Under the plan, the lanes would remain free for emergency vehicles and for cars with three or more passengers, but there would be a fee, undetermined as yet, for vehicles with one or two persons.
The plan calls for flyover lanes connecting I-15 and U.S. 95 so motorists using the toll lanes could avoid onramps and offramps at the Spaghetti Bowl.
Private investment would cover nearly all of the costs of the project. And free lanes would continue to be maintained along those routes.
"During these difficult fiscal times, it's essential that we look at every alternative for funding our transportation needs," Gibbons stated, adding that he backed the idea that came from an advisory panel he created a year ago.
"The governor feels this does conform with his pledge not to raise taxes," Gibbons' spokesman Ben Kieckhefer said. He added the fee would be optional, and that's different than a "blanket" tax or fee that everyone has to pay.
Toll-road legislation died in the 2007 session. Also, lawmakers rejected the idea of cameras to catch drivers that run red lights.
Lawmakers would have to approve the toll-road concept in 2009 along with a variation of the camera legislation. An electronic monitoring system would be needed for electronic toll-collecting and nabbing toll-lane violators.
Electronic toll systems typically use detectors capable of reading small electronic tags affixed to vehicle windshields. The fees are deducted from motorists' prepaid accounts as they pass the detectors. Violators would have their license plates photographed and receive tickets through the mail.
State Transportation Director Susan Martinovich has said her agency needs legislation that would provide "flexibility" in negotiating highway-building ventures.
Advocates of the public-private partnerships for highway projects include former U.S. Rep. Dick Gephardt of Missouri, now a lobbyist for investment firm Goldman Sachs. Gephardt has said the public-private deals aren't limited to toll roads, and light-rail ventures also are part of the equation. While there's some resistance to such deals, he added that to many tax-wary voters they represent "the least worst alternative."
Analysts from the investment bank previously told the transportation subcommittee that the demonstration project would cost $1.4 billion, of which 88 percent could be paid for by private entities. The public-private partnership would then allow private investors to reap the proceeds from the tolls to pay back their investment at a fair rate of return, which was judged to be 13 percent.
Anything earned on the roads above that amount would be shared with the state.
It could take up to 50 years for investors to reach the goals of their investment, at which time the toll lanes would be turned over to the state.
Review-Journal writer Francis McCabe contributed to this report.