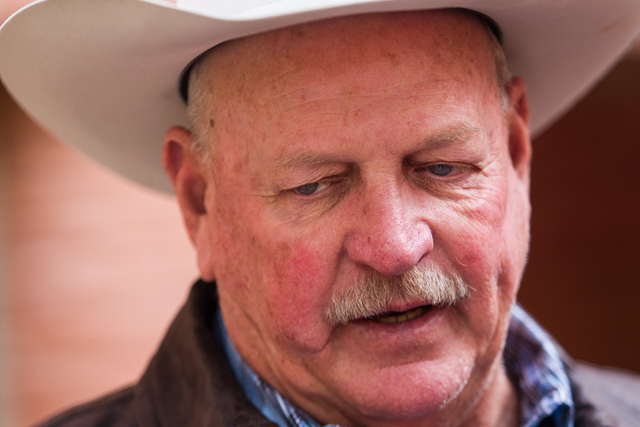 Clark County Commissioner Tom Collins is laying the groundwork to run for another political office.
He just won't say what office, yet.
Collins has a campaign fundraiser scheduled for his 65th birthday on June 22. The invitation to the $65-a-head event hints broadly at his already-public interest in running for mayor of North Las Vegas.
The flier shows a roadside sign reading "North Las Vegas 65."
"In My Hometown," the flier says. "Band, Booze & Beginnings" will be held at the Aliante Hotel & Casino, which happens to be in North Las Vegas.
Even with those broad hints, the widely known "cowboy commissioner" played it close to the vest when asked if the invitation telegraphs that he's running for North Las Vegas mayor.
"No," Collins said. "But it does mean I'm running for something."
As for his options, Collins didn't rule out the mayor's race.
"I'm definitely looking at the mayor's race," Collins said, but added that "I'm also looking at a couple of other opportunities."
Collins still has plenty of time to decide about a future race. Though term-limited, his third and final County Commission term ends in January 2017, when a successor is sworn in.
North Las Vegas Mayor John Lee, who could not be reached for comment, is up for re-election in 2017.
Collins said he is holding off on making any decisions about running for office until after the legislative session ends on June 1. He said that's because lawmakers are considering legislation that would move up filing dates and primaries.
After June 1, "it's looking at what changes will be made from people jumping around to running other races to what might become available," Collins said.
With a potential earlier primary period, Collins said, judges may be filing as soon as next September, with other candidates following in October.
"The thing is, you've got to be ready to jump in the race where you're at," Collins said.
Collins said he's asked his constituents if he should continue as an elected official.
"Nearly every one has told me to stay in public office," Collins said.
A former state legislator, Collins isn't bound by term limits there. He could do one more term in the Assembly, and three more in the Senate.
In 2014, Collins received $27,193 in campaign contributions, with support coming from organizations that included North Las Vegas Firefighters and the North Las Vegas Police Officers Association, which gave $1,500 each.
The police union doesn't do endorsements until after the candidate filing period closes, said Mike Yarter, president of the North Las Vegas police union. The union endorsed Lee in the 2013 election.
"We have a pretty good relationship with the current mayor," Yarter said. "We have a pretty good relationship with Tom Collins as well."
Yarter on Friday didn't rule out another Lee endorsement despite revelations that his department had investigated a report of possible child pornography found on Lee's personal iPad. Lee wasn't charged or arrested, but former Police Chief Joseph Chronister told the Review-Journal he wishes his department had done more to investigate, such as bringing in an outside agency.
But Yarter said the recent story "appears to be politically motivated," and he believes the officers handling the case did their due diligence.
Yarter credited Lee for successfully working with the city's three unions and helping North Las Vegas avoid financial insolvency.
But being the "No. 1 guy" comes with much scrutiny, Yarter said.
"You're going to take a lot of heat," he said.
Contact Ben Botkin at bbotkin@reviewjournal.com or 702-405-9781. Find him on Twitter: @BenBotkin1
RELATED
Voters for Tom Collins won't care about shooting incident
Collins apologizes for comments made during Bundy clash
Commissioner Collins wants to run for North Las Vegas mayor
Collins manages to insult Utahns with comments on Bundy roundup
Tom Collins: The village idiot who should be recalled