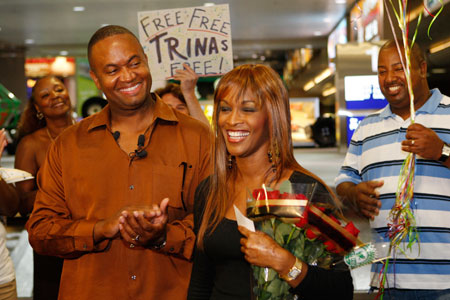 Surrounded by an uproarious circle of family and friends holding "Welcome home" signs, Trina Johnson-Finn walked into the baggage area of McCarran International Airport on Wednesday evening and kissed her husband.
Video
"The first thing I'm going to do is sleep. And maybe have a cocktail," she said, laughing.
There aren't any cocktails in jail, where Johnson-Finn had spent the past three months while awaiting trial in Suriname, a small South American country.
The charges? Falsely impersonating a celebrity to defraud customers, in this case, Toni Braxton.
Johnson-Finn's problems started after she was contracted to perform a Braxton impersonation at a private birthday party Feb. 28 in Suriname. The party, she was told, was for a "rich South American."
But Johnson-Finn contends she wasn't told the truth about her performance.
She said that, unknown to her, promoter Angel Ventura sold tickets for a Braxton concert, some for as much as $53, and billed her as the real thing.
The crowd of 3,000 quickly realized she was not the six-time Grammy winner and began throwing objects, forcing her to flee the stage.
After Johnson-Finn realized she hadn't been advertised as an impersonator, she and her husband voluntarily went to police to provide information on Ventura.
They fielded officers' questions through the night and into the early morning, which caused them to miss their flight home.
When they arrived at the airport for their newly scheduled flight, the police were waiting and Johnson-Finn was arrested.
"If we wouldn't have tried to be helpful, we wouldn't have missed our flight, and this would have never happened," said Raymond Finn.
Instead, Johnson-Finn spent three months being vilified by the media in Suriname as "Phony Toni," effectively becoming a scapegoat.
It was a nightmare that didn't end until a judge acquitted her of all charges on Tuesday.
"An experience like this lets you know just how blessed you really are," she said upon arrival in Las Vegas.
But as sweet as redemption was, it won't replace the time that was stolen in prison. And it won't diminish the mental and physical trauma.
"I lost around 15 pounds in the first month. Probably the first three weeks," Johnson-Finn said. "All they fed us were rice and bread, and sometimes a little bit of meat or fish."
Crammed into a cell with four women or more wasn't easy, either.
"I won't take the small things for granted anymore," she said. "Just a basic, five-minute phone call was heaven. … Just to get a bath or a shower was huge."
Not knowing his wife's condition wasn't easy for Raymond Finn.
"It's literally a situation where you are walking around looking at every picture, letter," he said. "Every small trinket in the house is a constant reminder that the person isn't there."
Finn said he spoke with his wife only four times by phone during the months she was imprisoned, each call just a matter of minutes.
Although they were able to communicate by letters passed through their attorney once a week, details of her treatment would be censored by prison officials before they got to Finn.
"I've literally been in the dark about specifics for the last two and a half months," Finn said.
But he continued to fight so his wife would go free.
He started a grass-roots campaign to create awareness for his wife's predicament. Web sites, Facebook groups, letters to Congress, letters to President Barack Obama — Finn did it all.
"We literally sent hundreds of submissions to every national media outlet, requesting coverage," he said.
His efforts caught the eye of Sen. Harry Reid, who said in a news release that his office had been in close contact with the U.S. State Department to make sure Johnson-Finn's case was treated fairly.
"This is a very happy ending to what has been a terribly difficult time for Trina and her family," said Reid, D-Nev.
During her time in prison, Johnson-Finn said she stopped blaming her captors for her condition.
It wasn't their fault, she said, it was Ventura's, who is expected to stand trial in July.
"They aren't familiar with celebrity impersonators. If he'd just been honest, this wouldn't have happened."
And although jail was largely a negative experience, Johnson-Finn said grabbing onto the few positives was necessary for her sanity.
"The girls in prison wanted me to sing for them," she said. "So I would sing them the song 'Hero' by Mariah Carey."
Johnson-Finn, eager to get back on stage after a long hiatus, gave her first performance as a free woman in the airport.
"So when you feel like hope is gone, look inside you and be strong, and you'll finally see the truth, that a hero lies in you," she sang.
Contact reporter Mike Blasky at mblasky@reviewjournal.com or 702-383-0283. />
Video