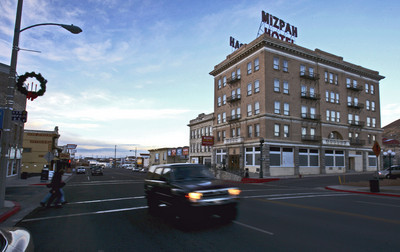 TONOPAH — If Clown Motel owner Bob Perchetti had his way, a constitutional amendment would be passed to allow President Bush to run for a third term.
Standing at the counter of the motel that adjoins a small cemetery where early citizens of Tonopah were buried, Perchetti, 69, stares at grinning clown dolls gathered in a pile before him, adding to the motel's motif.
"I know it's not going to happen," he says, "but it would be great if Bush could stay in there. His surge has almost got the war won now. But since I can't caucus for him, I'll be caucusing for John McCain. He's got the military background to get the war over."
Even with buildings bathed in bright sunlight, it is apparent that if this former mining town was a mouth, most of the teeth would have to be capped.
No one knows that better than Perchetti, a Republican Party stalwart here who heads up a local monument and murals committee.
"This town is decaying, it doesn't look too good," he says. "Murals can brighten it up."
Located in mountainous country halfway between Las Vegas and Reno, Tonopah, now the Nye County seat, became a boomtown in 1900 after rich silver ore was discovered. It reached its peak in the years leading up to World War I and suffered a slow, steady decline until World War II. Skeletons of mine frames dot the hills.
In the 1970s there was again a rebirth of mining when deposits of gold, copper and molybdenum were found. But by the end of 1980s, the boom had gone bust.
Then the town lost a small but steady player in the local economy when the F117A stealth fighter was moved in the 1990s from the super-secret Tonopah Test Range to New Mexico.
A town that once had 10,000 people, struggled to keep its population above 2,500.
Today, Perchetti is cautiously optimistic about the economy. He and other movers and shakers in Tonopah met recently with Chinese businessmen who say they are considering using the Tonopah airport to export goods into the United States.
Perchetti is certain McCain could help the country deal with the war. Army 2nd Lt. Frederick Pokorney Jr. of Tonopah was the first Nevadan killed in the Iraq war.
"McCain won't let our boys die in vain, won't let our families suffer in vain," Perchetti says. "He's a former military man. He'll see that we win."
How much a McCain presidency would help Tonopah's economy, however, is unclear to Perchetti.
"I'm doing OK because bikers and other people like to stay at the Clown Motel and wander through the cemetery and take pictures," he says.
Interactive Map Slideshow Thursday, Day 5: Hawthorne, Schurz, Fallon Friday, Day 6: Imlay, Winnemucca, Mcdermitt