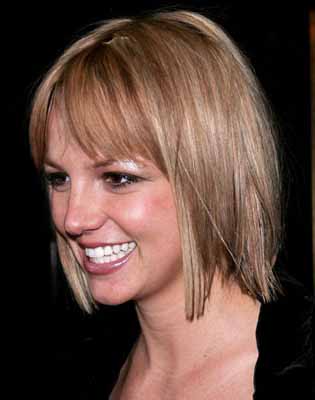 So what's up with those recent separate sightings of Britney Spears and Tony Danza in Las Vegas?
Spears was reportedly in town March 31 and Monday for liposuction treatment while Danza attended "The Producers" a week ago amid rumors that he's replacing David Hasselhoff.
We reported here on April 2 that Spears, accompanied by two galpals and a bodyguard, requested a table close to a restroom at Tao Bistro at The Venetian, "because she would be using the restroom a lot."
I'm told one of the side effects of lipo is that patients require a lot of water, hence more trips to the restroom. She also was spotted Monday taking many restroom runs from Nobu to the biffy at Simon's Kitchen & Bar.
Reports of her liposuction treatment here first surfaced over the weekend in London.
Meanwhile, we reported here that Danza was backstage at "The Producers" on Thursday night at Paris Las Vegas. He plays Max Bialystock in "The Producers" on Broadway. The Broadway production is to close April 22. Hasselhoff's last show is May 6.
GIBBONS ROASTED
Gov. Jim Gibbons topped MSNBC talk-show host Keith Olbermann's "Worst Person in the World" list Tuesday.
Olbermann, who regularly pummels the Bush administration on his "Countdown" show, went after Gibbons for his comments this week about rumors that the Wall Street Journal and Democratic Party were in cahoots.
The newspaper broke the story that the FBI is investigating allegations that Gibbons accepted unreported gifts or payments from a military contractor while he was a U.S. congressman.
Olbermann had issues with Gibbons' quote: "I have heard that the Democrats have paid to have these Wall Street Journal articles written."
Olbermann's comment: "Governor, don't you think, if the Democrats could get good coverage out of the Wall Street Journal by paying for it, they might spend the money on a little higher-value target than the governor of Nevada?"
Asked to respond, Gibbons' press secretary, Melissa Subbotin, said Wednesday, "I'm not going to dignify his comments with a response."
MEDIA UPDATE
Mark Pfister, let go last week as the morning weatherman at KTNV-TV, Channel 13, said his departure came down to a minor difference in salary, "roughly a week's worth of Nutra System meals" over a couple years.
He plans to stay in Las Vegas and start a commercial insurance business.
Pfister, proud of his contribution to the morning team of Rikki Cheese and Ron Futrell and a ratings jump from .8 to 3.0, said, "The thing I'll miss most is the people I worked with."
THE SCENE AND HEARD
The corks start flying at UNLVino today with the kickoff event, Bubble-Licious, a champagne and sparkling wine tasting. The party runs from 7-10 p.m. at the Hard Rock Hotel pool. The three-day wine festival, in its 33rd year, features products from more than 800 wineries. Ticket information: www.unlvtickets.com or call 876-4500. …
Grammy winner Diana Krall has signed on for a four-night engagement with the Las Vegas Hilton for June 14-17. …
Palms owner George Maloof addresses the Chamber of Commerce membership luncheon next Wednesday at the Four Seasons Hotel. Ticket information: 641-5822, option 2, or www.lvchamber.com.
SIGHTINGS
Pete Rose, making an appearance Wednesday at the VFW Post 1753, at 705 Las Vegas Blvd. North, to promote Power Tax Relief, a taxpayer assistance company. An odd partnership, considering Rose spent five months in jail in 1990 for tax evasion. …
Penthouse magazine owner Marc Bell, partying Tuesday in the VIP section of Pure nightclub (Caesars Palace).
THE PUNCH LINE
"Jennifer Lopez was the celebrity mentor on 'American Idol' tonight. Most of her advice was, 'Just let them fix the vocals in the studio.'" — Jimmy Kimmel
Norm Clarke can be reached at 383-0244 or norm@reviewjournal.com. Find additional sightings and more online at www.normclarke.com.
NORM CLARKEMORE COLUMNS